Seniors at Greater Risk for Cavities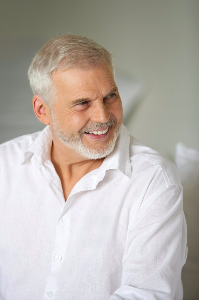 Cavities often attack the teeth of babies and young children. However, upon entering the new millennium, it was revealed that elderly adults were getting more dental caries than children. Nowadays, children and elders are still the most vulnerable groups for tooth decay.
Aging can open doors to many different oral health problems. Tooth enamel loss, receding gums, and bone loss are indicators that your mouth is aging with your body. Long ago, missing teeth caused by a dental disease was a common problem and tooth extraction was the conventional treatment option for this kind of issue. Today, with the advent of modern dentistry, seniors can now rely less on the old line of dentistry and more on advanced dental procedures to restore their teeth and smiles.
Risk Factors for Cavities
Geriatric teeth, also known as elderly teeth, are less capable of handling normal wear and tear than those of the younger generations. Here are some reasons seniors may be disposed to more cavities:
Lack of fluoride
 Arthritis
Gum Disease
Dry Mouth
Diet
Assisted Living
Finances
Threat of Other Mouth Diseases
While older adults are at risk for dental decay, they are also at increased threat for root decay, a dental condition in which the cavity develops on the roots of the teeth. This happens when their gums continue to recede, exposing root surfaces. Some medications can also lead to dry mouth and allow decay to form.
Approximately 50% of people who are in their 70's develop root cavities, which affect at least one tooth in their mouth. Roughly, 25% of elderly adults have bone loss around teeth due to advanced gum diseases. Failure to prevent these conditions may lead to a more complex treatment.
Dental Care Tips for Seniors
Seniors can reduce the risk of developing cavities and other tooth problems. Good dental care at home is the key to keeping teeth and gums in superior condition. To maintain good overall oral health, one must always:
Brush teeth at least twice a day using toothpaste that contains cavity-fighting components.
Use dental floss at least once a day
Rinse with antibacterial mouthwash to reduce bacteria that produce plaque and gum disease
Visit the dentist regularly for professional cleaning and oral examination
Excellent Dental Care for Seniors in Bondi
As long as you have natural teeth, regardless of your age, you are prone to getting dental caries. That is why it's essential to continue your healthy lifestyle and good oral care to prevent the development of various dental problems as you age. For more tips on how to keep your teeth and gums healthy, consult your dependable dental partners in Bondi at Bondi Dental.
Seniors can enjoy our wide range of top-quality dental treatments and procedures that aim to keep their smile healthy and complete. If you're dealing with any dental problems, see our dental expert today for a comprehensive diagnosis of your condition. We can recommend the most appropriate treatment for your oral health issue.
Contact us today to claim your FREE Dental Consultation on a dental checkup, smile make-overmakeover, and dental implants.
Call your Bondi dentist on (02) 9365 7187 or book your appointment online.
Visit us at 134 Curlewis St in Bondi Beach.