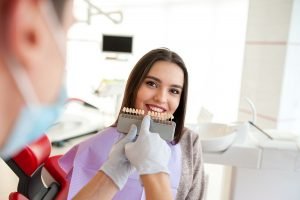 Dental veneers are used to:
Restore fractured or discoloured teeth.
Correct shapes of teeth
Close gaps between teeth
Lengthen worn teeth caused by night grinding
Straighten misaligned or crooked teeth
Correct stained teeth that cannot be bleached
What are porcelain veneers?
Porcelain veneers are thin shells of veneers made to the shapes and colour desired and bonded to the teeth to correct any of the above dental problems.
If you desire to have porcelain veneers, the first step is to come for a consultation with your Bondi Dental dentist, who will examine your existing dental condition, discuss with you your problems and concerns, and the desired result, and the costs involved.
Upon your agreement, a second appointment will be made during which time, your dentist will do a mock up on your teeth to obtain your approval before preparing your teeth. Then a model will be made to be sent to the laboratory for frabricating the veneers. This will normally require one to two weeks.
Upon completion by the laboratory, you will be required to come for a 3rd visit for the veneers to be bonded to your teeth.
Advantages of Porcelain Veneers
Durable and less likely to stain
The colours are more stable and uniform
Translucency providing a very 'natural look'
Porcelain Veneers in Bondi
If your require porcelain veneers to correct your smile, visit your Bondi dentist for a consultation now!
Porcelain Veneers in Bondi
To claim your FREE Smile Makeover Consultation, call (02) 9365 7187 or request your appointment online.
Visit us at 134 Curlewis St in Bondi Beach.
See also