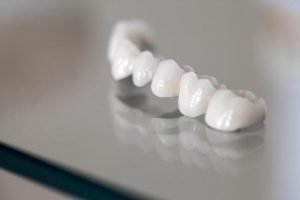 Instead of repairing a tooth that is already there, a bridge is used to help restore or replace missing teeth.
In this case, two crowns are placed on the teeth on both sides of the gap, and these are attached to prosthetic teeth (or a natural tooth) to close the gap.
Dental bridges can be fixed or removable, and they can even be anchored by dental implants to provide better results.
Our team makes high-quality restorations, ensuring they are attractive, natural-looking, and durable.
If you're tired of dealing with your dental problems, give your dentist Bondi a call today, and you'll have your original smile back in no time!
Why do I need a dental bridge?
When you have a missing tooth or teeth, it can affect you in several ways.
A dental bridge can address those changes, such as:
restoring your facial appearance
restoring the ability to chew properly
restoring your speech and pronunciation
maintaining face shape
re-adjusting your bite to distribute the force when you chew
preventing your remaining teeth from shifting
Types of Dental Bridges
There are four main types of dental bridges:
Traditional Bridges
A traditional dental bridge is composed of a false tooth or teeth held in place by dental crowns that have been bonded onto each of the abutment teeth.
Traditional bridges are the most widely used type of dental bridge and can be used when you still have natural teeth remaining on both sides of the gap created by your missing tooth.
Cantilever Bridges
Although they are similar to a traditional bridge, the pontic in a cantilever dental bridge is held in place by a crown that is attached to one abutment tooth only.
For a cantilever bridge, you only need one natural tooth next to the missing tooth gap.
Maryland Bridges
Similar to traditional bridges, Maryland dental bridges use two natural abutment teeth on either side of the gap.
However, while traditional bridges use dental crowns on the abutment teeth, Maryland bridges use a framework of either metal or porcelain material that is bonded onto the backs of the abutment teeth.
Like traditional bridges, Maryland bridges can only be used when you have a natural tooth on both sides of the gap caused by the missing tooth/teeth.
Implant-supported Bridges
As the name implies, implant-supported bridges utilise dental implants as opposed to crowns or frameworks.
Usually, one implant is surgically placed for every missing tooth, and these implants support the bridge in position.
If an implant for each missing tooth is impossible, the bridge may have a pontic placed in between two implant-supported crowns.
Dental Bridges in Bondi
Bondi Dental will help you achieve the optimal state of oral health. We provide a wide range of restorations for patients who reside in Bondi and its surrounding areas.
Dental Bridges in Bondi
Call us on (02) 9365 7187 or request your appointment online today!
We are located at 134 Curlewis St in Bondi Beach.