In the past, a missing tooth was restored by a dental bridge, which involves cutting two good teeth adjacent to the missing tooth site for placement of a three unit bridge.
During the last 10 years, dental implants have become a very popular and well-received solution for replacing missing tooth/teeth.
What are Dental Implants?
Dental implants are artificial tooth root replacements made of titanium, which are surgically placed into the jaw to replace missing roots so that crowns or bridges can be placed.
Depending on your oral condition, Bondi Dental's expert dentists will give you proper advice on what type of dental implant placements best suits your actual needs.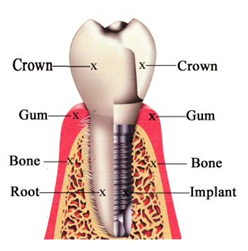 Single Implant
Multiple Implants
Implant Denture
Implant Bridges
What are the Advantages of Dental Implants?
Enhanced appearance
Improved speech
Improved comfort
Easier eating
Improved self-esteem
Improved oral health
What do Dental Implant Procedures Involve?
Consultation
There will be an initial consultation with your dentist Bondi Beach, followed by X-rays and study models. After careful consideration, studies, and discussions, a treatment plan with its corresponding costs will be prepared and presented.
Surgery
Your Bondi dentist will surgically place the titanium implants into the jaw. Integration will take about 4-6 months, during which time temporary tooth or teeth will be placed as appropriate.
Prosthetic placement of tooth/teeth
Your dentist will expose the implant, take impressions and create a model upon which new crowns or bridges are based. Because the implants are integrated into the jaw bone, the replacement tooth/teeth will look, feel, and function just like your own natural tooth/teeth.


Dental Implant Procedures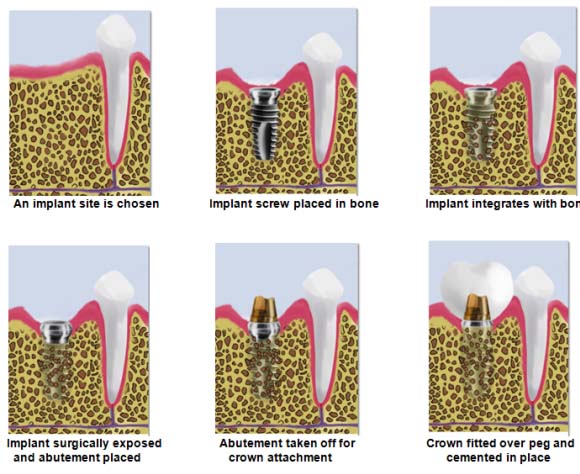 Dental Implants in Bondi
If you have missing teeth and would like to restore your smile and chewing functions with dental implants, let your Bondi Dental team take care of you.
Dental Implants in Bondi
To claim your FREE Dental Implants Consultation, call (02) 9365 7187 or request your appointment online.
Visit us at 134 Curlewis St in Bondi Beach.