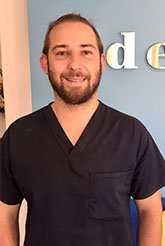 Dr. Haddon Suttner
Dr Haddon Suttner is the owner and principal dentist here at Bondi Dental.
He was born in CapeTown, South Africa and raised in Toronto, Canada- where he completed his schooling and undergraduate degree; in Physiology and Psychology, with honours.
Haddon moved to Australia to study dentistry in 2003 at Sydney University, which is where he met his now wife, Cara.
Haddon purchased the practise in 2007, since then the practise has expanded to employ 4 other dentists and an OHT, as well as having 2 in house lactation consultants. Additional to dentistry, Haddon also runs an internal tongue tie clinic to help new born babies who are having difficulty breastfeeding.
His main emphasis for the practice is to provide a thorough comprehensive diagnosis and to deliver the most therapeutic comfortable treatment. Since the practice welcomes a diverse patient pool, our treatment modalities are individually tailored to suit each patients specific needs.
He enjoys travelling the world, having attended multiple different courses domestically and internationally. Recently, he has travelled in Australia, as well as to the US in order to stay on the cutting edge of dental technology and research.
He keeps busy enjoying spending time with his 6 children, attending yoga classes, runs along Bondi beach and surfing, with his daily morning gym routine before work.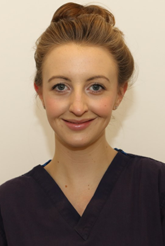 Dr. Emma Robertson
Dr Emma graduated from the University of Glasgow in June 2012. She worked in the UK for 2 years in very busy mixed public/private practices, before moving to Australia in November 2014.
Emma enjoys the variety of general practice, and takes pride in building good working relationships with her patients, making them feel at ease and relaxed in her care.
Emma has attended some extra clinical courses since graduating, to build on her skills. The focus of these have primarily been on root canal therapy, and methods of straightening teeth quickly and efficiently.
In her spare time, Emma enjoys training and competing in dressage on her horse. She also enjoys travelling, and spending time in the beautiful Sydney sunshine.