Dentists and Dental Hygienist for Perfectly Healthy Mouth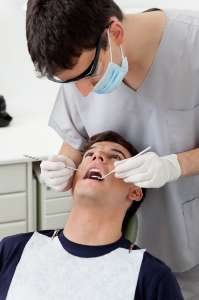 Individuals who regularly visit their dentists are the only ones who can experience a superb kind of oral health. Consulting your dentist helps you maintain a healthy condition of your oral well-being. It is because a dentist's practice concentrates on handling your entire mouth. The dentist's specialisation covers teeth cleaning, cavity prevention, as well as teeth and gums examination for indications of any dental issues. Aside from that, a general dentist can give diagnostic procedures like x-rays. Such procedure is required in preparation for a particular treatment such as dental implants, orthodontics or surgery for impacted wisdom teeth removal. Furthermore, dental hygienists are specifically trained to work and be part of a dental team, providing proficient care to patients. They have a significant role in dental health care, as they are primarily concerned with preventive dental health and diagnosing gum disease.
Dental Hygienist Alongside Your Dentist
With the abovementioned tasks of a dentist, it is obvious that their main duty is to let your mouth in a perfect condition. While general dentists usually carry out routine methods such as filling cavities, dental hygienists offers tooth cleaning or scaling. Aside from this, dentists coordinate your dental care with specialists such as if you require a root canal or if you need braces. Your dentist is capable of identifying dental problems such as:
Early signs of periodontal (gum) disease
Symptoms of oral cancer
Indications of TMJ or temporomandibular joint disorders
Dental Hygienist Routine
During your dental appointment, dental hygienist will do the following steps:
Checking of the inside of your mouth to see the condition of your teeth and gums.
Cleaning and polishing of teeth by means of tooth scraper, mirror and specialised toothbrush.
Brushing and flossing of teeth.
Give advice on healthy diet and dental decay prevention.
The Importance of Dental Hygienist
Ordinary cleaning of your entire mouth is way too different from a professional cleaning done by your dental experts. Together with your proper teeth and gum care at home, regular professional cleaning helps you uphold an impressive, healthy mouth. This is crucial since a hygienic and healthy mouth will enhance your appearance, give you a fresher breath and most of all, maintain your overall health.
Well-dedicated and Professional Dental Hygienist in Bondi
To get the most out of your dental cleaning, visit your knowledgeable and caring Dental hygienist in Bondi today. Here at Bondi Dental, we have the right dental hygienist that suits your needs when it comes to impeccable oral health. With our remarkable expertise in dentistry, we don't only help you achieve remarkable oral wellness, but we also provide you with professional oral hygiene education. Contact us today to claim your FREE Dental Consultation on dental checkup, smile make-over, and dental implants.
Call your Bondi dentist on (02) 9365 7187 or book your appointment online.
Visit us at 134 Curlewis St in Bondi Beach.