World No Tobacco Day and Your Teeth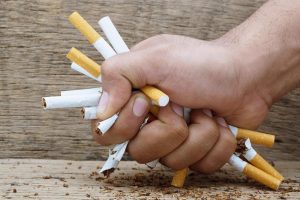 To raise awareness of the damage tobacco can do and encourage cessation of tobacco use (in all forms), the World Health Organization (WHO) holds World No Tobacco Day every year, this year on May 31.
At Bondi Dental, we completely support the WHO in its efforts to decrease tobacco use.
Thanks to warning labels, public service announcements, and billboards, tobacco smoke's harmful effects on the body are common knowledge.
However, Bondi Dental would also like to emphasise the fact that beyond illnesses of the lungs and circulatory system, smoking is dangerous for your oral health.
Every puff of cigarette smoke contains over 4,800 chemicals, nearly 70 of which have been determined to be carcinogenic (to cause cancer).
Smoking is the most significant avoidable cause of disease and death in Australia.
There is a tobacco-related death in Australia about every 28 minutes in Australia, adding up to more than 350 deaths a week.
In 1998, tobacco use caused nearly 20,000 deaths. In almost all age groups, more deaths were related to use of tobacco than to illegal drugs or alcohol.
Smokeless tobacco, often called chewing tobacco, is not a good alternative.
At least 28 cancer-causing chemicals are known to be in smokeless tobacco products.
The effects of smokeless tobacco are worsened by the fact it stays in the mouth while it is being consumed; meaning teeth, gums, and soft tissues are always in contact with it.
Let's take a look a closer look at the specific threats posed by tobacco use, and what you can do about it.
5 Ways Tobacco Attacks Your Dental Health
#1 Gum Disease
Tobacco use is a significant risk factor for gum disease with smokers being up to six times more likely than nonsmokers to have it
Tobacco reduces salivary flow throughout your oral cavity and the blood flow to your gum tissue.
This allows more plaque and calculus to accumulate on your teeth, while also making your gums less able to fight disease and heal.
#2 Oral Cancer
Tobacco use is a significant cause of oral cancer because it contains cancer-causing chemicals, which, when chewed or smoked, expose your oral tissues to them.
Changes occur on the cellular level that can lead to oral cancer.
The risk of developing oral cancer decreases significantly the moment you stop using tobacco products, and over 10 to 20 years, your risk gradually reduces to that of a lifelong nonsmoker.
#3 Delayed Healing
Smoking retards the healing process of your mouth due to reduced blood flow to oral tissues.
Blood flow brings nutrients and oxygen to your tissues while taking away waste products.
Oxygen plays a vital role in healing, and nutrients and waste disposal lead to healthier gums in general, which are more resistant to attack.
Delayed oral healing can complicate various procedures, including tooth extractions, dental implants, and treatment of gum disease.
#4 Stained Teet
We all know that the tar and nicotine in cigarettes can stain fingers and even walls, which is why it should be little surprise they can have the same effect on your teeth.
These contain particles that can stick to microscopic pores in the tooth enamel. The particles build up with repeated use and can stain the teeth.
The outer layer of your teeth can discolour and take on yellow or brown tints. Restorations like crowns or veneers can also stain with tobacco use.
Smoking makes it hard for stained teeth to be treated.
#5 Bad Breath
In addition to staining the teeth and being bad for your overall health, tobacco smoking can add to bad breath or halitosis.
Tobacco decreases your ability to taste foods and irritates your gum tissues. Tobacco users are more likely to suffer from gum disease and are at higher risk of developing oral cancer.
Bad breath is also associated with tobacco use due to tobacco's lingering smell and the bacterial buildup inside your mouth that is more likely if you smoke.
World No Tobacco Day exists to increase awareness of the health complications that tobacco brings.
Bondi Dental is here to inform you that there can be quite dire oral complications as well.
Quitting can be challenging because tobacco is known to be addicting, but with help from Bondi Dental, you can take back control of your oral health!
The Importance of Bondi Dental to Tobacco Users
If you have used tobacco, or continue to, or if you have any other behaviours that may threaten your oral health, visits to Bondi Dental are even more important!
During a routine check-up, your Bondi dentist examines your teeth, gums, throat, and other soft tissues for any signs of trouble.
If you use tobacco products or other carcinogens, you can receive a cancer screening which adds the face, head, neck, mouth, and throat for signs of the disease.
We will also ask you some questions to help determine whether or not you are experiencing nonvisual warning signs of oral cancer. The entire process is quick, noninvasive, and painless.
The Bondi Dental Advantage
Our offices are conveniently located in the Eastern Suburbs – Bondi Beach, Bondi in Sydney. Our skilled dental professionals have over 60 years of combined experiences in all fields of dentistry.
We offer the highest quality dental preventative, restorative, and cosmetic services for all patients in the region. We have free parking behind our building and offer a FREE Dental Consultation, including a thorough dental check-up.
We are open 7 days a week 8am – 8pm!
We Offer FREE Consultation for:
Call us on (02) 9365 7187 or book your appointment online.
We are located at 134 Curlewis St in Bondi Beach.