Tooth Decay Prevention: Your Teeth and Your Diet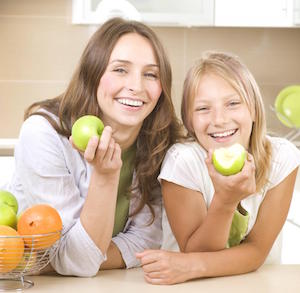 No matter how hard you care for your teeth at home, if you don't eat healthfully, all your dental care efforts may go to waste. One of the worst enemies for your teeth is consuming sugary foods and acidic beverages. If you often consume these types of foods, you put your teeth at greater risk for tooth decay, cavities and gum disease.
Your diet plays a crucial role on your overall oral health. If you eat more fresh and healthy foods such as fruits, vegetables, and dairy products, you can help reinforce your teeth, avoid infections and keep an admirable environment for good oral bacteria inside your mouth. Knowing what foods promote or deter tooth decay is important if you want to keep a healthy set of teeth for life.
Healthy and Unhealthy Food Choices for your Teeth
Starchy foods – rice, potatoes and bread are staples to everyone's tables. These types of foods release glucose and other simple sugars when broken down by enzymes. The oral bacteria consume the simple sugars to produce acid, which is the primary enemy of your tooth enamel.
Consuming starches increases the risk of developing tooth decay, but it is still lower than table sugar. On the other hand, if the starch food contains added sugar such as found in many breakfast cereal, biscuits and cakes, the risk is similar with table sugar. Less refined starches such as whole grains contain some properties that can protect your teeth.
Fruits and vegetables – fruits contain sugar, but when eaten fresh, they don't increase the risk of decay. In fact, consuming fresh fruits instead of sugar-added meals have been revealed to reduce risk of dental decay.
Dried fruits may not be a good choice for your teeth as they increase risk due to the free sugars they release when dried. With vegetables, they are often fibrous. As a result, they require more chewing, which in turn, stimulates saliva production to neutralise acid in the mouth. Thus, fresh fruits and vegetables with no added sugar are one of the healthiest foods for your teeth.
Acidic foods and drinks – many foods and beverages contain high levels of acid, such as sodas, energy and sports drinks, and citrus fruits. Chronic mouth acidity results in dental erosion by softening the mineral content of tooth enamel. The outcome is compounded when acidic drinks or foods are consumed over long intervals rather than taking them all at once or during meals.
Dairy Foods – milk, cheese and other dairy products contain properties that help prevent tooth decay and strengthen your teeth. Calcium is one of the properties of dairy foods that can be absorbed by the dental enamel and promote saliva production. The sugar lactose in milk causes less acid production than other forms of sugars. In addition, milk is also rich in nutrients such as calcium, phosphorous and casein, all of which can help inhibit tooth decay.
Additional Tips
Think before you eat and drink the foods that you know can affect your teeth. Eating a balanced diet is not only beneficial to your general health but also to your overall oral health. In addition, skip or limit between-meal snacks.
Increase your consumption of fresh fruits, green leafy vegetables, whole grains and dairy foods in your diet. Limit your intake of free sugars, sugar-added food products, and acidic beverages. Drink plenty of water and not fizzy beverages. This is not only a prescription for general nutrition; this will also help you achieve healthier, decay-free teeth.
Keep in mind that tooth decay is preventable. With excellent dental care and good eating habits, this oral health problem can be easily prevented. Aside from engaging in a nutritionally sound diet, be sure to keep updated on the condition of your oral heath by visiting your dental team regularly.
Prevent Tooth Decay at Bondi Dental
For good dental health, never disregard your teeth and gums, even if it means sacrificing some unhealthy foods you love. You can learn more about effective tooth decay prevention by visiting your trusted Bondi dentists at Bondi Dental. We offer a comprehensive range of preventative dental treatments to ensure that we can cater all your dental needs, from prevention to treatment. Our highly skilled and friendly dental team will also provide you with dental care tips to improve your fight against oral health diseases.
We are conveniently located in the Eastern Suburbs Bondi Beach, Bondi in Sydney, offering high quality dental services to the local Bondi community and the surrounding areas. Bondi Dental provides free parking facilities at rear of building.
Contact us today to claim your FREE Dental Consultation on a dental check-up, smile makeover, and dental implants. Bulk Bill Child Benefit Schedule Up to $1,000.Call on (02) 9365 7187 or simply book your appointment online. Bondi Dentals group of professionals has combined experiences of over 60 years in all aspects of dentistry.
Call your Bondi dentist on (02) 9365 7187 or book your appointment online.
Visit us at 134 Curlewis St in Bondi Beach.