The Right Time to Get Dental X-rays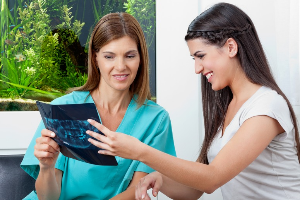 Dental x-rays are performed yearly or more often if your dentist tracks the development of a dental problem or treatment. If you are a new patient, your new dentist will probably perform dental x-rays to get an accurate picture of your dental health.
Dentists apply dental x-rays to monitor the oral wellbeing of patients and to diagnose various oral health issues before they trigger irreversible damage. There are many types of dental x-rays for different needs as well.
Types of Dental X-rays
There are numerous types of dental x-rays. This includes the following:
Bitewing
This method lets you bite down a certain piece of paper to allow your dentist see how well your teeth's crowns match up. It's used to find out decay between the teeth and bone loss for severe gum disease.
Palatal
This type of dental x-ray captures all your teeth with just one shot.
Panoramic
In this technique, the machine will swivel around your head. Your dentist may use this to inspect your wisdom teeth, aim for implanted dental appliances, or examine jaw issues.
Periapical
This method concentrates on two complete teeth, right from the root to the crown. This is applied to check problems underneath the gum line or in the jaw.
Occlusal
It shows the mouth's floor or roof and used to detect extra or hidden teeth beneath the gums, jaw fractures, cleft palate, cysts, and abscesses. The x-ray also includes finding a foreign object.
Problems Dental X-rays can Detect
In adults, it is performed to:
Reveal areas of decay, such as in between teeth, that can't be seen with an oral exam.
Show changes in the bone or in the root canal developing from infection
Reveal an abscess
Recognise decay existing under a current filling
Uncover bone loss that follows gum disease
Expose other progressive abnormalities like cysts and other types of tumors
Help in the preparation of implants, dentures, braces and other dental procedures
In children, it is performed to:
Monitor for decay
Check for enough space in the mouth for incoming teeth
Determine for the progression of wisdom teeth
First-Rate Dental X-rays in Bondi
Getting dental x-rays helps your dentist envision dental issues of the teeth, including surrounding tissue, that are not visible with a simple oral exam. Here at Bondi Dental, we assure you that we provide the newest form of technology there is for dental x-rays, for a safer procedure and accurate results. We help you prevent incoming oral health concerns that may occur in the future with our first-rate dental x-rays.
Contact us today to claim your FREE Dental Consultation on dental checkup, smile make-over, and dental implants.
Call your Bondi dentist on (02) 9365 7187 or book your appointment online.
Visit us at 134 Curlewis St in Bondi Beach.