Sensitive Teeth: How to Deal With it?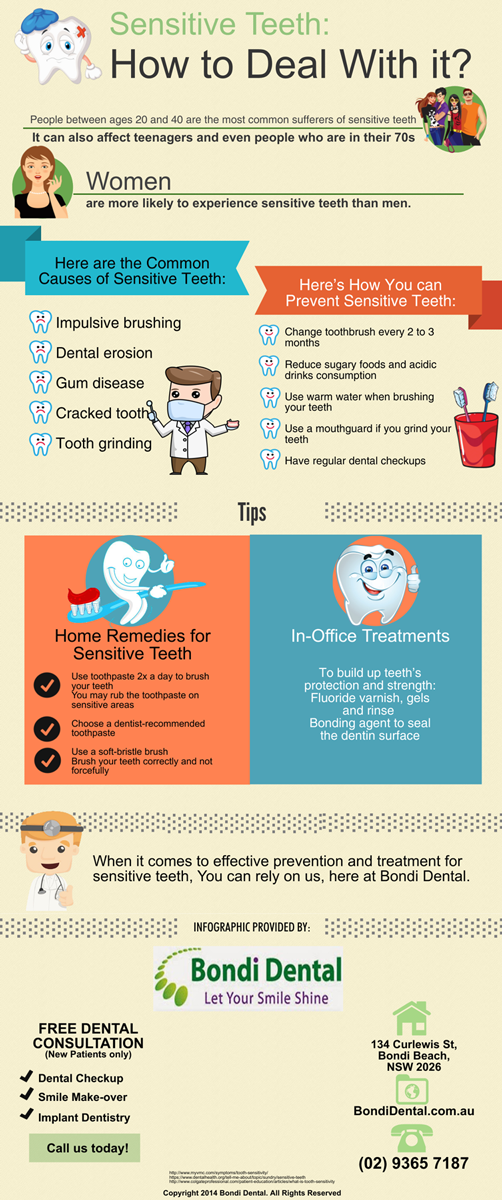 Tooth sensitivity is a common condition that is experienced by many people around the world. This condition can occur and fade over time. The reason teeth become sensitive is due to exposed dentin or root areas because of receding gums or gum disease. At the age of 65, receding gums can happen in a person, making four-fifths of people suffer such changes.
Fortunately, you can reduce the chances of experiencing tooth sensitivity. Keep your mouth healthy and well treated as possible through, of course, with proper oral hygiene. In this way, you can prevent receding gums and gum disease. Disregarding your sensitive teeth can lead to other dental problems.
There are numerous ways to deal with sensitive teeth manually and professionally. To achieve expert treatments from tooth sensitivity, visit your trusted Bondi Dentist today. Here at Bondi Dental, we offer wide-ranging procedures for different oral health problems. Through our remarkable expertise in treating your sensitive teeth, we help you experience superior oral health condition.
Contact us today to claim your FREE Dental Consultation on dental checkup, smile make-over, and dental implants.
Call your Bondi dentist on (02) 9365 7187 or book your appointment online.
Visit us at 134 Curlewis St in Bondi Beach.