Denture Care in Bondi: Best Rules to Follow for Dentures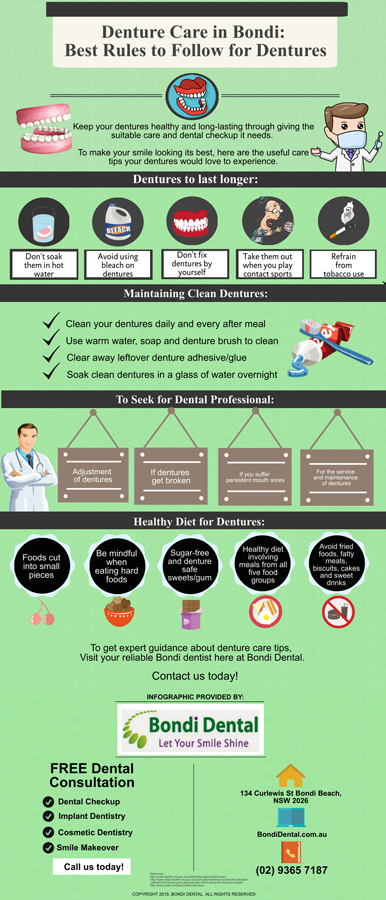 New wearers of denture need time to get comfortable to their new "false teeth" given that even the best fitting dentures deliver an awkward feeling at first. To get adapted to chewing with new dentures, begin with soft, easy-to-chew foods. For healthy gums while wearing your dentures, make sure that you remove them from your mouth before sleeping at night.
It is important to continue your dental checkups with your dentist to inspect oral tissues for symptoms of disease or cancer. It is possible that there is a need to adjust your dentures or remake them to keep a proper fit over time. Avoid adjusting the dentures by yourself but instead see your dentist to assess the problem.
For more tips on proper denture care, visit your dependable Bondi Dentist today. Your dental care partners here at Bondi Dental provide numerous dental care procedures including the upholding of your dentures and other treatments for efficient, superior oral health experience.
Contact us today to claim your FREE Dental Consultation on dental checkup, smile make-over, and dental implants.
Call your Bondi dentist on (02) 9365 7187 or book your appointment online.
Visit us at 134 Curlewis St in Bondi Beach.