The Gift of a Smile for Father's Day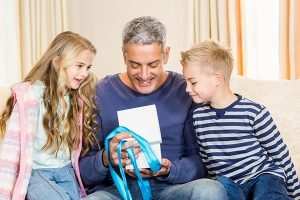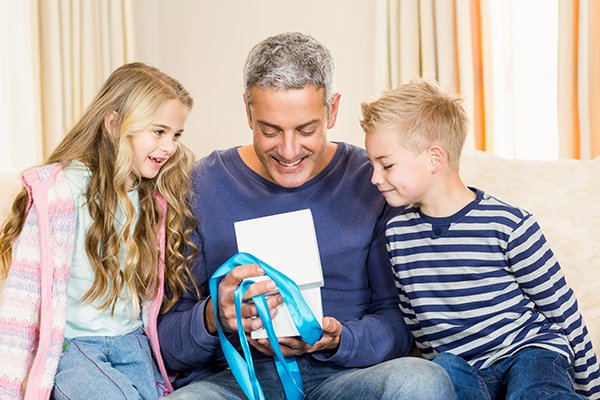 If this year is like last, September the 1st there will be nearly twice as many people as usual running around their local department store looking for something to give as a gift.
Why? Because September 1st is Father's Day and many of us wait until the last minute to shop for Dad.
This is often because we're stumped when it comes to gifts for dad and Dads don't usually give us useful clues.
Alcohol, brunch, and sports gear have overtaken ties and aftershave as Father's Day favourites, but they're still a cliche. So, what can you get the Dad that has done everything for you?
At Bondi Dental, we suggest a gift of oral health! That's right, this Father's Day give your dad the gift that keeps on giving, by selecting a dental gift from the handy list of suggestions below.
Water flosser
Research demonstrates the benefits of using a water flosser (sometimes called an oral irrigator or Water Pik). Water flossers increase gum health and reduce gingivitis by removing bacteria and plaque from between teeth.
Water flossers reach areas between teeth and under the gum line where a toothbrush or floss may not reach. The pulsing water flow is gentle on the gums and less likely to cause bleeding in sensitive gums. Water flossers are also great for people with limited dexterity or mobility.
If your Dad is one of those Dads who doesn't like flossing, the water flosser is a great Father's Day gift.
Eco-friendly toothbrush
Is your dad "green"? If so, consider bamboo toothbrushes. The bristles are soft, less likely to damage gums or enamel, and the charcoal in them fights bad breath. As a bonus, bamboo naturally fights microbes, meaning your Dad doesn't have to worry about bacteria. The brushes come in biodegradable packages, and one 4-pack of brushes will last an entire year!
Bluetooth toothbrush
For oral hygiene with cutting-edge technology, Dad might appreciate a Bluetooth-enabled toothbrush. Dad can link his brush with his smartphone where an app offers tips to improve his brushing.
The newer versions allow experimenting with different settings, including ones that provide enhanced whitening or extra gum stimulation. A sensor lights up if your dad is brushing too hard and running the risk of damaging his teeth or gums.
Whiter, brighter teeth for Dad
As we age our teeth become less bright, and sometimes even stain. If this has happened to your Dad's teeth, consider getting him a tooth-whitening package for Father's Day. At Bondi Dental we offer two treatments.
Professional Home Whitening Kits are simple and cost-effective. We take impressions of you Dad's teeth, then make moulds and custom-fitted trays which will be used to hold the tooth bleaching gel in his mouth.
Results appear in one to two weeks, and your Dad can control the degree of "whiteness" that he desires. This is a perfect treatment for the Dad who wants to brighten his teeth in the convenience of his own home and at his own pace.
LED (In-chair) Teeth Whitening is carried out in our clinic using a LED lamp light. The process takes about 1-2 hours depending on the degree of 'whiteness' desired. This is by far the fastest and most effective way of teeth whitening. Gum protection and gel are used to minimise sensitivity during and after the procedure.
Results are spectacular!
Bondi Dental Advantage
Bondi Dental is conveniently located in the Eastern Suburbs – Bondi Beach, Bondi in Sydney. Our exceptionally skilled dental professionals have more than 60 years of combined experiences in all fields of dentistry.
We provide high quality dental preventative, restorative, and cosmetic services for all patients in the region. Bondi Dental has free parking behind our building and offers a FREE Dental Consultation including a complete dental check-up.
We are open 7 days a week 8am – 8pm!
Call your Bondi dentist on (02) 9365 7187 or visit us at 134 Curlewis St in Bondi Beach.