Invisalign Tips & Tricks at Bondi Dental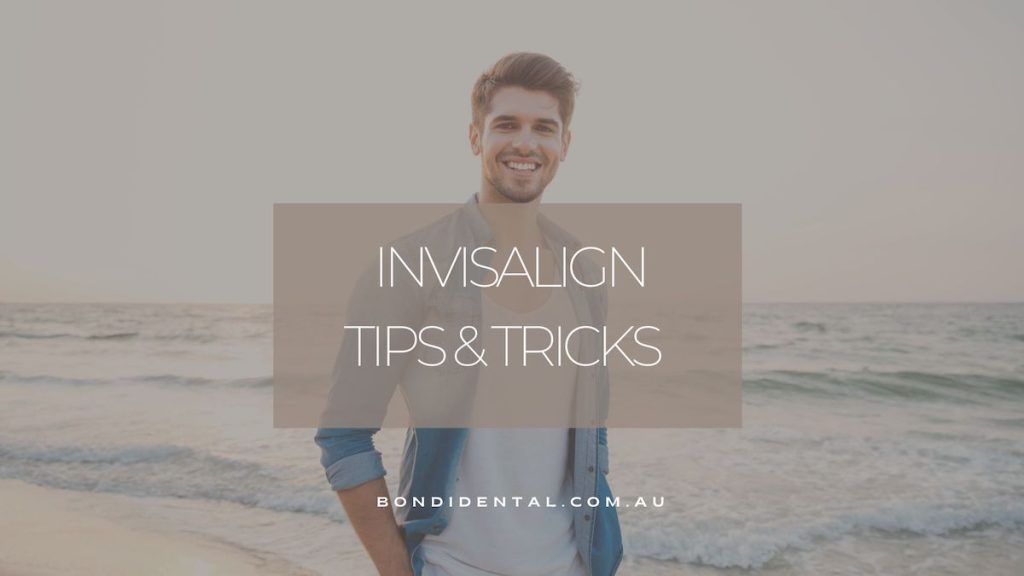 Want to enhance your Invisalign experience and reduce any inconvenience you may face?
More and more people are choosing clear Invisalign braces instead of the traditional metal ones.
Invisalign aligners are so subtle that they can sometimes be worn, and others will not even notice them!
This doesn't mean that using Invisalign doesn't have its difficulties. No dental treatment is entirely convenient, and Invisalign is no different.
To make your Invisalign experience better, Bondi Dental offers you some easy hacks that will help you maximise your Invisalign experience and minimise your inconvenience.
Invisalign Hacks
Wear them nearly 24/7
This should be obvious – simply wearing your aligners is the most essential part of the tooth-straightening process. Invisalign aligners only work if you wear them nearly 24/7.
With a set of new aligners, you should wear them almost permanently for the first 48 hours.
There is a simple rule of thumb – if you aren't busy eating or brushing your teeth, your aligners should be on your teeth! On a normal day, you'll wear your aligners for 22 hours.
If you slack off on this important tip, your teeth won't move as planned, and your treatment time will be extended.
Clear mouthwash baths
Leaving your trays in for an extended period of time can cause an unpleasant taste in your mouth.
To fix this, put your trays in a mix of half mouthwash and half water a few times a week. A quick soak for three to five minutes is enough.
Tray removal tool
It's not the greatest look, nor is it a lot to constantly put your fingers in your mouth whenever you want to take out your trays.
It can also be messy. To overcome this problem, just buy an Invisalign tray removal tool.
Smooth rough edges
Ignore this hack if you don't feel any sharp edges on your aligners.
However, if your gums, tongue or cheeks feel scraped, find a fine grit nail buffer – NOT a coarse metal file! A fine-grit nail buffer can smooth the edges of plastic corrective dental wear.
Brush after every meal
Your dentist will ask you to wear your Invisalign trays for 22 hours daily.
But don't put them back in right after eating unless you've brushed your teeth.
If you don't brush, the food stuck in your teeth can mess up your trays and make your teeth not line up well. Brushing is also a good way to keep your mouth and breath fresh.
Travel dental care kit
Taking care of your smile is something you need to do regularly, not just once. For best results, commit to routine upkeep of your teeth.
One extremely useful thing is a dental care kit to take care of your teeth and aligners.
A good kit has a holder for your retainer, a small toothbrush for travelling, tiny interdental brushes, and aligner chewies.
Cut back on coffee and tea.
One way to ensure that your Invisalign trays are easy for all to see is to drink a lot of coffee and tea.
Coffee and tea can stain aligners, making them visible and removing one of their advantages.
If you picked Invisalign because it looks subtle, the last thing you want is for it to turn a dirty yellow.
Keep your previous set of aligners.
When undergoing straightening, you'll usually wear a set of trays for two weeks and then move on to the next set. When you make this switch, hold onto those old aligners.
If a new aligner is damaged or misplaced, you can use the last set to keep your teeth in line while waiting for replacement aligners.
Practice talking
What does talking have to do with Invisalign? Although most people won't spot your aligners, some might pick up on subtle changes in how you speak, mainly when the aligners are new.
Some patients have an initial slight lisp, but it will quickly disappear if you practise talking privately.
Now that you've read our awesome hacks, you can straighten your teeth with Invisalign! Bondi Dental is here to help you decide if Invisalign is the right choice, to design your Invisaligners, and to support you at each step of your tooth straightening!
The Bondi Dental Advantage
Bondi Dental is conveniently located in the Eastern Suburbs – Bondi Beach, Bondi in Sydney. Our group of dental professionals has over 60 years of combined experience in all aspects of dentistry.
We offer high-quality dental preventative, restorative, and cosmetic services for all regional patients.
Free consultation for Invisalign
Learn more about the Invisalign treatment offered by Bondi Dental today!
We are open 7 days a week, 8 am – 8 pm!
Call your Bondi dentist on (02) 9365 7187 or see us at 134 Curlewis St in Bondi Beach.