Keep Your Teeth, Avoid Sports Drinks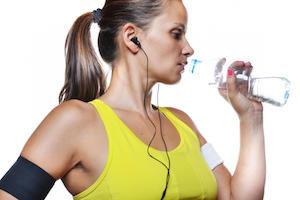 Many people don't hesitate to grab a bottle of sports drinks whenever they feel thirsty after a strenuous workout or a long run. They are thirst-quenchers. However, sports drinks and other fizzy beverages such as sodas and energy drinks can have a negative impact on your smile and well-being.
The effects of sports drinks to dental health have been long exposed on the Internet. Dental practitioners and organizations are trying to inform consumers in the simplest and most informative way possible. However, many people do not feel threatened by the consequences of these unhealthy beverages.
According to the latest findings of Roy Morgan Research, 8% of Australians consume sports drinks – 10% are men, 5% are women and 14% of Aussies aged under 25 years old. No wonder, tooth decay is the most prevalent disease in Australia.
Tooth Decay and Sports Drinks
A study from the Academy of General Dentistry found sports drinks contain a significant amount of acid, and with consistent use for five days, they can start destroying your teeth. Aside from the high amount of sugars, what really makes sports drinks detrimental for your teeth is their high levels of acidity, which causes irreversible damage to the teeth.
Tooth enamel is the shiny outer layer of your teeth. When you consume sports drinks, the acid will break down your enamel. Dental researchers at New York University have also found that these types of beverages can result in excessive tooth wear and may damage the underlying bone, which causes the teeth to soften and weaken.
Since the damage is irreversible, your teeth become susceptible to cavities and decay. In addition to tooth erosion, popular sports drinks and energy drinks sipped by many athletes can also cause other dental problems such as hypersensitivity (sensitive teeth) and tooth staining.
Aside from tooth wear and dental caries, consuming 340ml of sugary drink in one day, such as sports drinks and energy drinks, increases your risk of type 2 diabetes by up to 22 per cent when compared to consuming one can a month or less according to the research conducted by InterAct Consortium at the Imperial College London. If you want to enjoy anything other than plain water, it's important that you know what are in your drinks. This includes sugar and acid content as well as nutritional benefits.
What You Can Do
If you can't stop from having a bottle of sports drink, the best thing you can do is to reduce your consumption. Here are other tips that can help reduce the damage if you are going to continue to drink them:
Drink in moderation
Before you brush your teeth, wait at least 30 minutes after drinking. This helps softened enamel to harden.
If possible, drink with a straw. This lessens the acids' direct contact on your teeth.
Neutralise the effect of sports drinking by drinking or swishing water afterwards.
If you drink a lot of energy drinks or sports drinks, consult your dentist about using acid-neutralising remineralising toothpaste to help reharden soft tooth enamel.
Keep in mind that consuming sports drinks and any other types of acidic beverages is not the only factor that causes tooth decay. Poor dental hygiene and lack of professional dental care including an unhealthy diet are also the leading causes of dental caries and cavities. If you keep your mouth clean after drinking, this will significantly reduce the damage of sports drinks. Above all, a healthy diet and good dental care are the keys to maintaining a strong, beautiful smile. If you are thirsty after working out, grab a bottle of water instead. It contains absolutely no sugar and is very healthy for your mouth!
Visit your Bondi Dentist today!
If you want to learn more about the harmful effects of sports drinks and sugary beverages to your body and on your teeth, visit your trusted dental team in Bondi Beach here at Bondi Dental. Aside from providing high-quality dental service, we also take time to give helpful tips and advice regarding things that can affect your teeth and your overall dental well-being. At Bondi Dental, we invite you and your family to be part of our Active Dental Maintenance Program, where we don't just make your mouth overall healthy, we also provide you with comprehensive oral hygiene education.
We are conveniently located in the Eastern Suburbs Bondi Beach, Bondi in Sydney, offering high quality dental services to the local Bondi community and its surrounding areas. Bondi Dental provides free parking facilities at rear of building.
Contact us today to claim your FREE Dental Consultation on a dental check-up, smile makeover, and dental implants. Bulk Bill Child Benefit Schedule Up to $1,000.Call on (02) 9365 7187or simply book your appointment online. Bondi Dentals group of professionals has combined experiences of over 60 years in all aspects of dentistry.
Call your Bondi dentist on (02) 9365 7187 or book your appointment online.
Visit us at 134 Curlewis St in Bondi Beach.