Tooth Decay and Sports drinks: Preventing Enamel Damage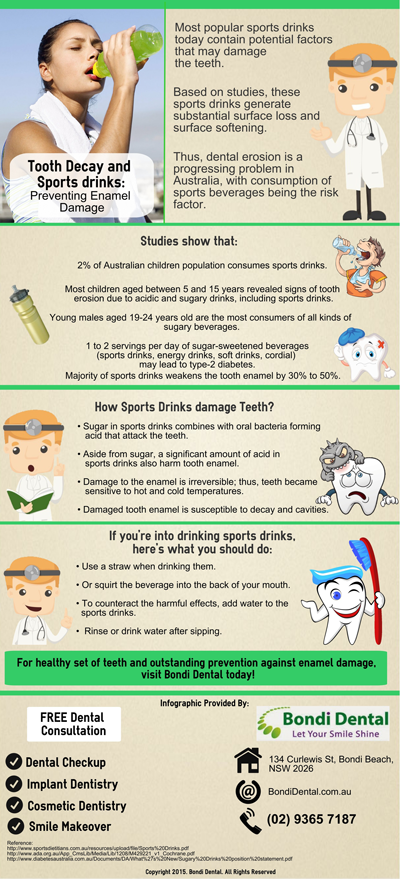 Sports drinks are one of the most important buddies for athletes and people who are into physical activities. By the time they get thirsty, they'll then grab a bottle of sports drinks before returning to the game. This becomes a routine as beverages like these can quickly replenish and reinvigorates their heating bodies. On the other hand, frequent drinking of acidic and sugary liquids such as sports drinks can wear down your enamel, a condition called dental erosion.
Dental erosion leads to tooth decay. This can happen when acids slowly dissolve your tooth's enamel and dentin. The long-term exposure to acidic drinks increases the risks of dental damage. Even though there are many things that cause tooth decay such as candies, sodas and poor oral hygiene, the threat of sports drinks alone must not be disregarded as well. Most of the widely consumed sports drinks nowadays are not just made of water but also sugar and citric acid. This is the reason why compared to soft drinks, sports drinks can trigger more damage three times as much as any other sweetened beverages. So the next time you sip on sports drinks, be mindful enough the way you drink them as well as the times you have them.
To know more about preventing dental damage and tooth decay, visit your reliable Bondi dentist today here at Bondi Dental. We can give you thorough explanation how and why dental erosion happens and the perfect way to avoid them. Bondi Dental also offers advanced methods to improve your overall oral health through our wide-ranging treatments. Have fun experiencing healthy teeth and gums so you can enjoy life without the worries of countless dental health issues.
Contact us today to claim your FREE Dental Consultation on dental checkup, smile make-over, and dental implants.
Call your Bondi dentist on (02) 9365 7187 or book your appointment online.
Visit us at 134 Curlewis St in Bondi Beach.