How Acids Harm Your Teeth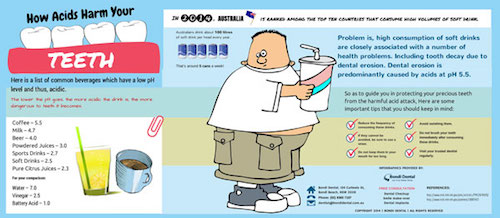 As a country, Australia consumes a very high volume of soft drinks per year. Problem is, this is not a good thing at all. The consumption of soft drinks is proportional to the prevalence of health problems, including dental issues caused by tooth erosion. Moreover, this is not just about the sugar content of these drinks. A huge factor in the onset of dental erosion is acidity.
Aside from damaging the tooth enamel, too much acidity also provides the bacteria an environment to thrive in and grow in population. This makes you more prone to other dental and oral health concerns. That is why it is important that you are able to identify the drinks that pose a threat to your teeth and gums. By doing so, you can protect yourself from the consequences of acidity in your mouth.
Here at Bondi Dental, we make sure that we help you achieve utmost dental and oral wellness. Your trusted dentist in Bondi aims to let your smile shine by providing you with a comprehensive set of dental and oral health care services. Call us today on (02) 9365 7187 or simply book your appointment online to claim your FREE dental consultation.