Buying The Right Toothpaste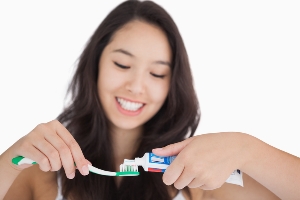 While its name might suggest otherwise, toothpaste doesn't always come as paste. Toothpaste, by definition, is any product that you brush onto your teeth and gums to clean any accumulation of plaque and bacteria on oral and periodontal surfaces.
Different toothpaste products have different compositions. For most brands, the basic composition heavily depends on the particular specific benefits being touted by the products— for instance, teeth whitening, anti-plaque, and anti-gum disease.
Generally speaking, toothpastes typically prepared with the following ingredients: gentle abrasives, thickeners, humectants, flavoring agents, detergents and fluoride.
Regulation And Approval
Making an informed decision on what toothpaste works best for your teeth might prove to be a little difficult, especially these days when there is a dizzying array of toothpastes on the aisle of your local grocery store. ADA Spokesperson William A. Price remarks "One almost needs a PHD degree to weather the dental aisle of confusion."
In choosing the right toothpaste, the very first thing to consider is whether or not the toothpaste brand you choose is, in fact, formulated to do what it claims. As such, it is always a good decision to buy toothpaste products that are regulated by the Food and Drug Administration.
Toothpaste products that are FDA approved are required to display verifiable drug facts which consist of active ingredients, warning, and other relevant information. Essentially, FDA regulation means that the products proves to support its health-improving and disease fighting claims.
Toothpaste buyers, for good measure, can look for ADA seal of approval. Products that sport the ADA seal of approval have gone through comprehensive voluntary testing program that validates its safety and effectiveness.
Dentist In Bondi
If you require professional help in trying to figure out how to best brush your teeth, visit your local Dentist In Bondi at Bondi Dental.
A reputable dental practice that sits in Bondi Beach, Bondi Dental offers high quality dental services to the local Bondi Community, the Eastern Suburbs, Sydney, and its surrounding areas. Bondi Dental houses a group of dental professionals who have gathered 60 years worth of collective dental experience.
Built on the cornerstone of safe and highly effective dental practices, Bondi Dental provides a compressive range high-quality modern dental treatments. Contact us at 02 9365 7187. Or simply book an appointment online.