7 Tips to Help Your Child Overcome Fear of the Dentist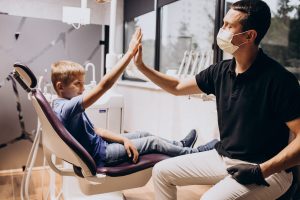 Is your child scared of going to the dentist?
"My favourite thing to have parents tell their child is that we are going to check their smile and count their teeth"
So, why most kids don't like going to the dentist?
There are many uncontrollable factors leading to the fear of dentists. It could be a traumatic experience, the fear of pain, the fear of strangers and the list goes on.
7 Ways to Overcome Dental Fear
Here are 7 tips you can use to make your child more receptive to going to the dentist's clinic:
#1. An Ounce Of Prevention Is Always Better Than A Pound Of Cure
The first and most crucial step to assuage your child's fear of the dentist is to ensure it never sets in, in the first place.
Bringing your child to the dentist at an early age and getting them accustomed to us can help you avoid ever having to deal with fears associated with it in the first place.
#2. Bring along some toys for comfort
Most dental clinics catering to young children have toys, books to entertain your child.
These forms of distraction can take their mind off of what is to come once they get up onto the dental chair and have work done on their teeth.
If your dental clinic has lots of these things lying around, then it's a good sign that it's a very child-friendly environment for your child.
You might also want to take along their own personal toys for the ride as familiar objects help kids better in terms of being comfortable. The familiar sight of his own toys in a strange place can boost their confidence and help them deal with any sign of fear while waiting for their turn.
#3. Build a trusting relationship with your dentist
Developing the trust between a child and his dentist can also be a bit of a challenge for some people.
A surefire way of overcoming your child's fear of the dentist (or their fear of strangers, for that matter) is to show them that the person you're talking to is someone you trust and that they should follow suit as well.
So take the time out to become friends with your dentist. Talk to us. Let's have a friendly discussion over your child's dental health and other things. This is a great way to build rapport between you and your child's dentist as well as getting more information on what to look out for.
#4. Have a Positive Attitude
A visit to the dental clinic is always associated with some form of stress on the parents' part. This stress, although not said out loud, can be picked up by kids. This leads to an internal turmoil within their psyches in trying to understand why they're feeling such emotions as you head on out once again to the dental clinic.
So, it is important for you to take on a positive attitude as you take your child to the dentist. It is by having a positive aura that they'll also feel good about their visit to the dentist each and every time.
Don't let your emotions get the best of you, and your child will end up with a very happy relationship with their dentist for a very long time.
#5. Be Cool
There's bound to be a little fussing along the way.
Keep cool and stay positive.
They'll eventually settle down, and because you kept your cool, the stress goes away quickly.
#6. Visit Your Dentist regularly, even if only to say "Hi"
Another thing you can do to get your child accustomed to going to the Dentist is simply taking them there for a visit.
Even if your child doesn't need to have anything done to their teeth.
A simple visit to the Dentist's office to say "Hi" will make this seem like a normal part of their routine. This will help your child accept the idea of going to the dentist better.
#7. Talk About The Experience After The Visit
On the way home, talk to your child and discuss what just happened. Ask them how they felt while they were having their dental check-up. Ask them what they enjoyed most about their visit. Ask them how they felt about their visit.
Steer clear of any negative discussions that may come up. Keep a positive attitude at all times and your child will likely pick up on your positive emotions and follow suit.
These are things you can talk about to reinforce positive thoughts and emotions about their visit to the dentist.
If the dentist said it was ok, treat your child to some ice cream or go to his favourite place and have a good time. Nothing beats capping an eventful day with positive thoughts and experiences to make a child forget his fears, especially if he just had to face them a few minutes ago.
Beat your Dental Fear with your Trusted Bondi Dentist
At Bondi Dental, we love working with kids of all ages.
We understand young children, and we make sure the interaction between our staff and your child starts with a positive experience.
Bondi Dental is conveniently located in the Eastern Suburbs – Bondi Beach, Bondi in Sydney. Our exceptionally skilled dental professionals have more than 60 years of combined experience in all fields of dentistry.
We provide high quality dental preventative, restorative, and cosmetic services for all patients in the region.
Bondi Dental has free parking behind our building and offers a FREE Dental Consultation including a complete dental check-up.
We are open 7 days a week 8 am – 8 pm!
We are your family-friendly Bondi dentist located at 134 Curlewis St in Bondi Beach.