Is Smile Makeover Worth It?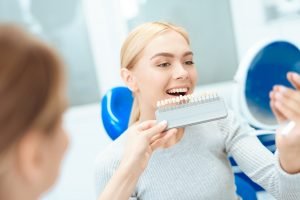 Need a new job? Looking for a partner? Want to have more confidence? Surprisingly, a great smile can be a pathway to all of these goals.
Everyone wants a beautiful smile – a smile that impresses other people, gives confidence and is part of a good dental and general health. But not everyone is blessed with a great smile
If you don't have exactly the smile you dream of, you may wonder what you can do to achieve it? What treatments are possible, how long do they take, and what do they cost? Is smile makeover Bondi Beach worth it?
These questions can cause patients to shy away from a smile makeover, even if it is just the thing they need to improve their smile, health, and life.
What to do?
Talk to the awesome folks at Bondi Dental, who can help you with ALL your dental issues. One of the great ways to completely restore a smile, and often the look of your face, is the smile makeover.
Bondi Dental is an expert at repair and restoration of all aspects of your teeth, mouth, and smile.
So don't worry. We are here to help you get that captivating smile!
Survey Says? Smile!
In a survey conducted by Kelton Global for the AACD, 48% of adults believe that a smile is the most memorable feature when first meeting someone—more so than the first thing a person says (25%). Nothing else comes close to the impact a great smile can make. Very few of us remember a person's clothes (9%) or the way he or she smelled (8%) after meeting for the first time, but the impact of a smile is nearly indelible!
In many ways, a good smile is one of your greatest assets.
On the other hand, a 'bad' smile has a negative effect. The way teeth look in a smile matters. People with a flawed smile are less attractive (37%) and less confident (25%) than those with perfect teeth.
This is why at Bondi Dental, we offer a comprehensive approach to improving your smile, the smile makeover.
Is Smile Makeover Worth It?
A smile makeover takes into consideration your facial appearance, skin tone, hair colour, teeth (colour, width, length, shape and alignment), gum tissue, and lips. Smile makeovers are performed for a variety of reasons and customised according to your personal characteristics, needs, and goals.
When the makeover is complete, problems such as stained, chipped, cracked, crooked, or missing teeth are gone – alignment restored, gums reduced, and gaps hidden. The appearance of your smile and your face is holistically improved!
What a Smile Makeover can Address
Smile makeovers can treat many dental and cosmetic issues. If you still doubt if smile makeovers are really worth it, we listed some of the most common issues below. Take a look at them!
External Tooth Colour: Dark or discoloured teeth are not only unsightly, but they also suggest an aged mouth. An attractive smile with bright, white teeth, on the other hand, lends to a youthful appearance. Discoloured teeth can be treated with in-office whitening, at-home professional whitening, or even with veneers.
Tooth colour and shading are vital considerations during the evaluation of, preparation for, and implementation of ANY dental procedures, including porcelain veneers, crowns, bridges, composite bonding, and dental implants. The final colour of teeth should blend harmoniously and naturally. And is one of the advantages of a smile makeover – it takes all these issues into account at the same time to ensure that your outcome is good.
Internal Tooth Colour: Silver or amalgam dental fillings replaced with natural, tooth-coloured composite restorations
Alignment and Spacing: Crooked, overlapping, or gapped teeth can be straightened and aligned through orthodontics or Invisalign, or have their appearance improved with veneers.
Missing Teeth: One or more missing teeth not only harms the look of your smile, but they also harm your bite, increase your risk for tooth decay, and can lead to other teeth shifting in your mouth. This makes tooth replacement a necessary element of oral health and facial aesthetics. Missing teeth can be replaced by dental implants, bridges, or partial dentures.
Overall Aesthetics: Uneven, chipped and cracked teeth can undergo cosmetic bonding to create an improved appearance. At the same time "gummy" smiles can be re-contoured to improve the overall appearance of the smile.
Fuller Lips, Smile and Cheeks: A sagging or aging face can be improved or rejuvenated with certain procedures included in smile makeovers, including orthodontics, oral maxillofacial surgery, and several kinds of injections.
As you can see, many improvements are possible through a dental makeover!
So, is smile makeover really worth it?
Smile Makeover and Bondi Dental
If you are unhappy with your smile, a smile makeover may be just the thing to upgrade it. A consultation with Bondi Dental can help you understand what your smile issues are and how we can treat them. Then, together, we can work on a complete makeover plan, taking into account your oral condition, your goals, your timetable, and your budget.
Take the first step towards a better smile, call us at Bondi Dental!
The Dental Advantage in Bondi
Bondi Dental is in the Eastern Suburbs – Bondi Beach, Bondi in Sydney.
Our skilled dental professionals have over 60 years of combined experiences in all fields of dentistry.
Dr Haddon Suttner is the owner and principal Bondi dentist at Bondi Dental. His main emphasis for the practice is to provide a thorough, comprehensive diagnosis and to deliver the most therapeutic comfortable treatment.
Bondi Dental has free parking behind our building and offers a FREE Smile Makeover check-up.
We are open seven days a week, 8 am – 8 pm!
Call (02) 9365 7187 or request your appointment online.
Visit us at 134 Curlewis St in Bondi Beach.