Your Medicine Could be Affecting your Dental Health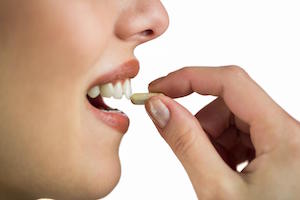 Did you know that there are over 500 medications that can cause dry mouth syndrome? Xerostomia, or dry mouth in simple terms, is a dental condition in which your mouth is unusually dry, and is often caused by certain medications.
Medicines that can trigger dry mouth include those that are formulated to treat illnesses such as common cold, high blood pressure, cancer, allergies, and depression. Right now, there are more than five hundred medications known to trigger dry mouth. Although this may not sound very alarming to some people, the truth is, dry mouth can lead to the most prevalent dental problem in Australia today, which is tooth decay.
Dry Mouth and Your Medicines
The plaque that accumulates on your teeth cannot be regularly washed away if your mouth lacks saliva. As the amount of friction and abrasion in your mouth increases, your gum tissue starts to dry out. All of these scenarios are extremely bad for your teeth and other areas of the mouth. Once the dry mouth syndrome becomes a chronic condition, it can drastically increase the risk of developing deep holes commonly known as "cavities"
Though it's the medication that is to blame for the prevalence of dry mouth, one must not stop taking their medications unless a physician has approved their decision. Generally, medical prescription must be prioritised over dealing with symptoms of dry mouth. This is because some of the medicines that cause dry mouth are used to treat serious illnesses such as cancer. As a result, , if one decides not to take them, this can lead to much worse consequences than tooth decay.
This is where dental professionals become involved. They attempt to treat patients in the most effective way possible. While dry mouth is not that very destructive, it can greatly weaken your teeth if the condition is left untreated. People who suffer from dry mouth are at greater risk for cracked, fractured and decayed teeth.
Some of the medications responsible for dry mouth include:
Antihistamines
Lung inhalers
Antidepressants
Antipsychotics
Anti-anxiety drugs
Beta blockers
Heart rhythm drugs
Anti-spasm drugs
How to Fight Dry Mouth
If you are prescribed with medication, tell your dentist as soon as possible.
Inform your dentist if you are taking medicines for an underlying health condition. This gives your dental specialist a chance to examine your oral health. Your dentist may tell you that there is an increased possibility of dry mouth occurring. During consultation, your dentist will outline the main signs and symptoms of xerostomia including its consequences if the condition is not controlled.
Chew sugarless gum to generate saliva. Though this is not a permanent solution, this can help manage the symptoms of dry mouth.
Drink plenty of water to help keep your mouth hydrated.
If you have been diagnosed with xerostomia, it's crucial to monitor your oral health.
Maintain excellent dental care and hygiene. Brush and floss your teeth regularly. Attend your routine dental visits and inform your dentist if you notice any changes.
Dry Mouth Solutions at Bondi Dental
Treating dry mouth can be a tricky process, particularly if the patient is unable to stop their medication. That's why the dental professional must think about the best approach to address the issue. Your dentist at Bondi Dental will thoroughly assess your overall oral health condition and help improve your oral hygiene routine by recommending necessary tools for comprehensive cleaning, such as an interdental brush. Professional dental cleaning is also recommended to remove stubborn plaque and ensure that your teeth and gum tissue remain in good condition.
The practice is conveniently located in the suburb of Bondi Beach, Bondi in Sydney, and offers high quality dental services to the local Bondi community and the surrounding areas. Bondi Dental provides free parking facilities at the rear of the building.
Claim your FREE Dental Consultation for a dental check-up, smile makeover, and dental implants. Bulk Bill Child Benefit Schedule Up to $1,000.Call on (02) 9365 7187 or simply book your appointment online. Bondi Dental consists of a group of professionals who have combined experience of over 60 years in all aspects of dentistry.
Call your Bondi dentist on (02) 9365 7187 or book your appointment online.
Visit us at 134 Curlewis St in Bondi Beach.