The Side Effects of Oral Piercings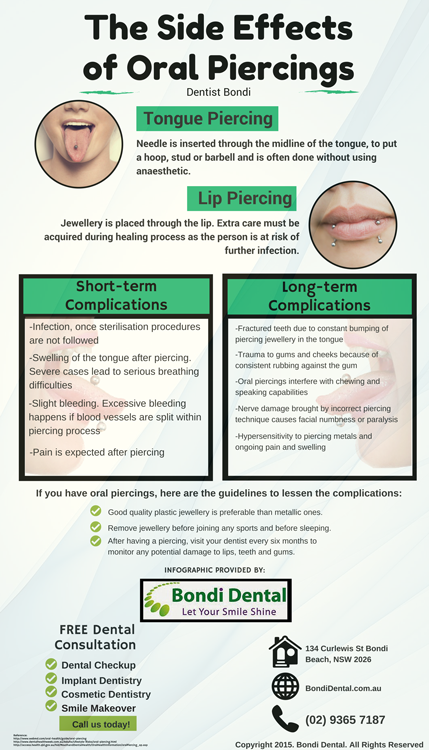 Before you engage to oral piercing, it is important to know what are the bad and the good sides of having one. You must be well informed so that you are not putting your oral health at risk since you're placing foreign objects that may destruct the functions of your mouth.
Soreness and swelling will be the usual outcome following the piercing procedures. On the other hand, severe cases would lead to excessive bleeding, damaged teeth and infections. If there's no stopping you from getting an oral piercing, then you must consult first your dental professional for the safety measures you should consider before and after the oral piercing procedure.
One way of protecting your teeth and gums and is to them keep from things that may hinder their natural responsibility in your daily lives. Oral piercings may interfere with your eating and speaking activities. To get adequate knowledge about oral piercings, visit your trusted Bondi dentist. Here at Bondi Dental, we also provide treatments that solve health issues after oral piercing procedures so you can restore the wellbeing of your oral health.
Contact us today to claim your FREE Dental Consultation on dental checkup, smile make-over, and dental implants.
Call your Bondi dentist on (02) 9365 7187 or book your appointment online.
Visit us at 134 Curlewis St in Bondi Beach.