The Importance of Mouthguards for Dental Injuries Prevention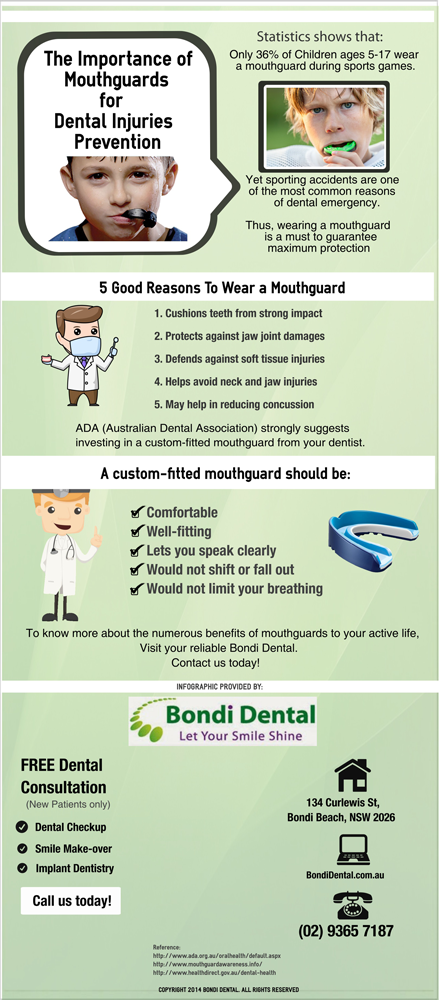 Dental injuries can be excruciating and disfiguring; also it may include extensive and complicated dental procedure. The amount of an injury to your teeth and jaw far exceeds the amount of a custom made mouthguard. That is why wearing a mouthguard before playing sports games is crucial so as to avoid future dental emergencies.
Mouthguards must be worn while playing your favourite sports or just joining training for any games where contact of the face is highly possible. Some of these sports are hockey, basketball, netball, baseball, as well as skiing and skateboarding. All players engaging in these sports must wear a custom-fitted mouthguard.
Wearing a mouthguard is one way to protect your teeth at its best, especially when you are into sports. To learn more about the advantages of mouthguard to your oral health, visit your reliable Bondi Dentist today. Here at Bondi Dental, we provide professional dental advice and remarkable oral care treatments so you can enjoy playing sports with your strong and healthy teeth.
Contact us today to claim your FREE Dental Consultation on dental checkup, smile make-over, and dental implants.
Call your Bondi dentist on (02) 9365 7187 or book your appointment online.
Visit us at 134 Curlewis St in Bondi Beach.