Simple Tips after your Wisdom Tooth Removal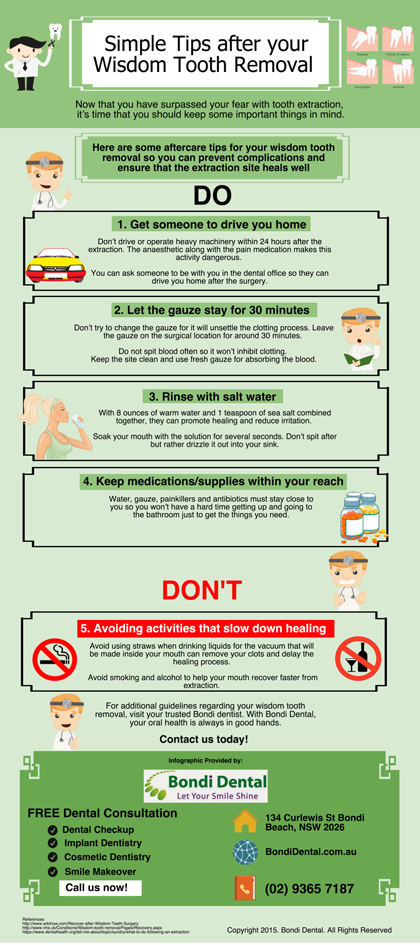 Right after your wisdom tooth has been removed, rest is the best activity you can do for the meantime. With tooth extraction, there are numerous care instructions you must obey following the surgery. Since the surgical site is sensitive and the blood clot must be maintained, you need to avoid certain activities you are used to doing so as to speed up your recovery.
Painkillers and antibiotics prescribed by your doctor should be taken to reduce pain and help your recovery. Avoid strenuous workouts for few days and don't drive home by yourself if a sedative or general anaesthetic was used for your wisdom tooth removal. In addition, don't attempt rinsing your mouth and smoking as well as drinking alcohol for such activities affects the blood clot at the surgical site and may inhibit the clotting.
To get more information on how you can recover faster after wisdom tooth removal, visit your trusted dentist in Bondi today. Your oral care partners here at Bondi Dental provide excellent wisdom tooth extraction so you can assure that the operation is safe and efficient. Through our outstanding expertise in the world of dentistry along with our first-rate dental equipment, we provide wide-ranging solutions for wide-ranging dental problems.
Contact us today to claim your FREE Dental Consultation on dental checkup, smile make-over, and dental implants. Call on (02) 9365 7187 or simply book your appointment online.