Simple Homecare for Dental Implants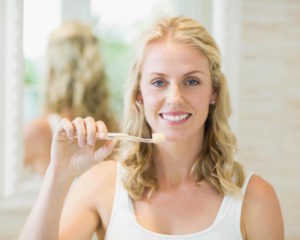 Implant dentistry is one of the greatest innovations in dental care in the last five decades. Nowadays, if you lose one or more teeth, you are very lucky to experience the advantages of using modern dental implants.
Dental implants are a good option for tooth replacement because of osseointegration. The bone and implant fuse together over several weeks through a biological process known as osseointegration. Once the healing process is complete, you will care for your new teeth just like your natural teeth, which is one of the best advantages of modern implants.
Homecare for Healed Implants
Brush your teeth twice a day using a soft-bristled brush and less abrasive toothpaste.
Floss gently in a shoeshine motion.
You can use an interdental brush, soft picks, a rubber tip or a water irrigation unit at least once a day.
If you experience an inflammation, use non-alcoholic, anti-microbial mouth wash and mix it with the water irrigation unit (1:10 dilution)
Post-Surgical Homecare for Implants
After the surgery, here are the things you should do for the first 2 weeks:
Drink only clear beverages and a soft food diet is highly recommended for the first few days.
Avoid using a straw when drinking. The sucking action can disrupt blood clotting at the point of surgery.
Take your prescribed antibiotics to prevent infection as well as any prescribed medicines needed for pain.
Use a soft-bristled toothbrush to clean your original teeth and other implants. Avoid brushing the surgical incision area.
Don't use an electronic or ultrasonic toothbrush for 1 to 2 weeks
Don't wear the temporary crown to help the healing of the gum tissue (if the dental implant was not loaded immediately)
If recommended, rinse with saltwater or non-alcoholic, antibacterial mouthwash twice a day.
Things to Keep in Mind
When caring for your dental implants at home, the two important things you want to remember are gentleness and cleanliness. In addition, there are two threats to your dental implants Bondi beach that you should keep in mind always – physical disruption and infection.
It's your body's natural response to adapt and protect your implant gradually as long as the natural processes are not interrupted physically while the bone and gums slowly integrate with the implant. Implants should be left alone, undisturbed in order to undergo a sound and successful healing.
However, if you brush or floss your teeth aggressively, use a stiff toothbrush, eat inappropriately hard food, there is the possibility of breaking the delicate cellular bond between the implant and your gums or bone. This will result in bleeding and perhaps causing a separation from the implants. This then, may cause infection and possible implant failure.
If you continue to remember the main activities of gentleness and cleanliness, your implant should be successful and easy to care for. Put simply, if you take care of your implants by doing the right thing, then they will be fine.
Detailed Dental Implant Homecare at Bondi Dental
At Bondi Dental, we will provide you with detailed guidelines and training in dental care for your implant so you won't experience any serious discomfort and complications as well as have the speediest recovery. Our skilled dental professionals will guide you during and after the treatment, as your overall health is important to us. We only use the latest technology when it comes to dental implants and other restorative and cosmetic dental treatments.
We are conveniently located in the suburb of Bondi Beach, Bondi in Sydney, and offer high quality dental services to the local Bondi community and the surrounding areas. Bondi Dental provides free parking facilities at the rear of the building.
Book your appointment online to claim your FREE Dental Implant Consultation TODAY! Bondi Dental consists of a group of professionals who have a combined experience of over 60 years in all aspects of dentistry.
Call your Bondi dentist on (02) 9365 7187 or book your appointment online.
Visit us at 134 Curlewis St in Bondi Beach.