Pros and Cons of Activated Charcoal Toothpaste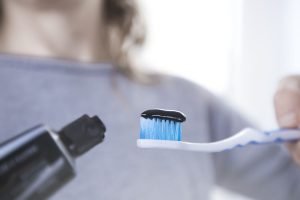 The Internet brings us a variety of things, some useful and some not.
And it overflows with "life-hacks" – ways to improve your life and lifestyle.
And recently, one of the most popular life-hacks is using activated charcoal as a hip way to whiten your teeth.
Activated charcoal teeth whitening has been featured on all kinds of traditional media outlets. But what do dentists have to say about this approach?
At Bondi Dental, we're here to discuss this trendy approach and why, when it comes to your teeth and whitening them, it's best to avoid fashionable new approaches and instead trust your dentist to offer you quick, effective, and safe teeth whitening options.
How is charcoal toothpaste supposed to work?
The first thing to know is that activated charcoal is just another name for common charcoal with extra oxygen in it, and it is made from the traditional sources, petroleum, coal, peat, wood, and even coconut shells.
These materials are heated, and the result is very porous charcoal.
And this porous nature makes it possible for activated charcoal to trap chemicals activated charcoal is a standard medical treatment for many kinds of poisoning.
Companies that manufacture activated charcoal toothpaste start with this premise but go on the make the claim that charcoal can eliminate toxins from gums and teeth, remove stains from your teeth, and leave you with a whiter smile.
Does it work?
There doesn't seem to be medical evidence this works. John Brooks, a dentist at the University in Maryland, performed a study in 2017 that took a closer look at the dental claims for activated-charcoal toothpaste.
What he discovered is that most activated charcoal toothpastes made claims far beyond what is realistic – some even claimed that they could remineralise, even though they did not contain fluoride, which is the element in toothpaste that actually causes remineralisation.
Brooks went on to look for hard evidence that these charcoal toothpastes were effective and safe, and he couldn't find much.
In 13 non-scientifically rigorous studies, results were mixed at best. Two studies suggested that these toothpastes reduced cavities, but all toothpaste has this effect.
Three studies, on the other hand, reported negative impacts, including increased cavities and abrasion of tooth enamel.
What does it all add up to? There isn't much evidence that activated-charcoal toothpastes have positive effects.
On the other hand, studies do show that this toothpaste comes with risks.
In the U.S., the ADA has released repeated warnings against using charcoal toothpaste, usually on the basis that the charcoal is highly abrasive.
This means that charcoal toothpaste is a threat to the enamel, the outer covering of the tooth.
When enamel abrades the dentin underneath is revealed, and this leads to tooth sensitivity and other dental issues.
Risks of Charcoal-Based Toothpaste
In a nutshell, the risks are:
Dental erosion: An irreversible loss of enamel may occur with chronic use of charcoal toothpaste. Dentin loss raises the risk of dental issues such as staining, dental sensitivity, and gum recession. Long-term use can lead to sensitivity to foods of extreme temperature.
Once the dentin is exposed, the risk of cavities increases.
Charcoal can also settle between the gums, leading to other complications like inflammation and trauma to the gum
Ultimately, activated-charcoal toothpaste seems to offer more risks than benefits. The good news is that tooth-whitening is still possible, and Bondi Dental offers you the safest, most effective solutions, in the form of professional tooth-whitening and dental veneers.
Let's take a look!
Bondi Dental's Whitening options
The most straightforward answer may be tooth whitening, and Bondi Dental offers two kinds, professional take-home and in-office whitening.
Professional whitening is convenient and inexpensive. We make moulds of your teeth from impressions and make you custom-designed trays.
You take these trays home, where you use them to soak your teeth in whitening gel for about two hours a day.
You will see results in 1-2 weeks, and you are in charge of the degree of your whitening.
LED (in-office) whitening is performed at our clinic by our highly trained dental professionals.
The entire treatment takes less than two hours (depending on how much whitening is required). You walk out of our office with teeth that are up to 8 shades whiter!
Veneers. Veneers are thin shells that cover your teeth. Bondi Dental offers two kinds of veneers, porcelain veneers and laminated veneers.
You should talk to us about which works better for you!
Porcelain Veneers at Bondi Dental
Laminated Composite Veneers at Bondi Dental
Professional Whitening at Bondi Dental
The Bondi Dental Advantage
Bondi Dental is located in the Eastern Suburbs – Bondi Beach, Bondi in Sydney.
Our exceptionally skilled dental professionals have over half a century of combined experiences in all fields of dentistry.
We provide high quality dental preventative, restorative, and cosmetic services for all patients in the region.
Bondi Dental has free parking behind our building and offers a FREE Dental Consultation including a complete dental check-up.
We are open seven days a week 8am – 8pm!
FREE Cosmetic Consultation available
Call your Bondi dentist on (02) 9365 7187 or request your appointment online. Visit us at 134 Curlewis St in Bondi Beach.