Dental Health Tracking Tips from Your Bondi Dentist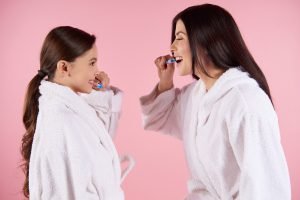 It's that time of year again, Australia's Dental Health Week – August 5th through 11th. Dental Health Week focuses on a different aspect of oral health every year.
This year, it focuses on keeping track of our dental health and is called "How's Your Oral Health Tracking?"
It is no secret that most of us are busier than ever before, with many of us juggling careers, volunteer work, and responsibilities at home.
An unfortunate consequence of such hectic lifestyles is that dental care can be put to the side.
The good news is that with just a little bit of planning, everyone can maintain terrific oral health.
But there are two groups of people for whom tracking dental care is even more important; the very young, and those in their golden years.
At Bondi Dental, we want you, even in the busiest of times, and at any age, to protect your dental health.
Dental Health Week and Children
Dental Health Week is a great way to introduce your children to the importance of dental health. Look on the web to see if any events are being held in your neighbourhood.
Or, take advantage of the ADA's Dental Health Week website and download any of the colourful, printable posters that have particular relevance to children.
Topics include dental health for children and two posters focusing on the dangers of sugary and acidic drinks like soda pop.
The information available online also contains helpful hints for parents:
Begin oral hygiene early. Brushing can begin on the baby's gums.
Spit out toothpaste, do not rinse out the mouth with water.
Don't use too much toothpaste. A small 'pea-sized' amount is all you need.
Make brushing fun! Use apps, songs or smartphones to liven brushing up.
Visit the dentist early as soon as teeth show up, or by the first birthday.
Use positive reinforcement during dental appointments. Praise your child on how well they listen and follow instructions.
 One age-clue your child can begin brushing alone is if they have their 'pen licence' for writing with a pen at school.
But the main thing to do is encourage your children to develop good oral habits by demonstrating good oral habits yourself, and tracking the development of your child's oral hygiene to make sure they are doing all the things necessary to ensure they will go through life with a beautiful smile, strong teeth, and excellent health!
One way to do this is to formally track their oral hygiene with a chart or stars, and reward them when goals are met.
Dental Health Week and Older People
As we age, our bodies become more prone to bacteria, infections and decay in the teeth, mouth and gums.
And because our general immune system also weakens, problems in the mouth can become problems that have adverse effects on our overall health.
This is why tracking oral hygiene practices and dental health is so important in the golden years.
If someone older loses control of their oral hygiene and dental health, problems can begin that eventually spiral out of control.
Dry mouth is a natural part of aging, but it can be exacerbated by a wide variety of medications that are routinely prescribed to elderly patients. When saliva production is decreased, the chance of bacteria and tooth decay multiply and tooth decay, gum disease, and worse can ensue.
Gum disease is a threat at any age, but in seniors, the danger increases. Studies have linked bacteria and gum disease to heart disease, pneumonia, and diabetes, all illnesses of great concern to older patients.
Oral cancer rates go up as we grow older, so skipped dental check-ups become even more dangerous. This is true even for people with no teeth or full dentures. Dental check-ups are the first line of defence against oral cancer.
Difficulties with 'regular' hygiene and memory. Even patients who have been wholly dedicated to brushing, flossing, and regular dental visits can have problems as they age.
Reduced dexterity can make brushing and flossing more difficult and less effective. Loss of dental insurance can increase the cost of dental treatment.
Inability to drive or get transportation can lead to missed dental appointments. Finally, a wide range of memory problems can affect a wide range of dental habits and practices.
Stay on track
The importance of "tracking" dental health cannot be overstated. So, this Dental Health Week, make sure that your young and old loved ones, "stay on track!"
The Bondi Dental Advantage
Our office is conveniently located in the Eastern Suburbs – Bondi Beach. Our extremely skilled dental professionals have more than 60 years of combined experience in all fields of dentistry.
We offer high quality preventative, restorative, and cosmetic dental services for all patients in the area.
Bondi Dental provides free parking behind our building and a FREE Dental Consultation including a complete dental check-up.
We are open seven days a week 8am – 8pm!
FREE Dental Consultation Available!
Call your Bondi dentist on (02) 9365 7187 or request your appointment online. Visit us at 134 Curlewis St in Bondi Beach.