Pericoronitis: How Impacted Teeth Result To Gingivitis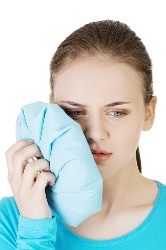 Popularly referred to as a wisdom tooth or a third molar, an impacted tooth is a still developing tooth that is unable to properly erupt through the gums due to the already existing adult set of teeth. Apart from overcrowding the mouth, a partially erupted tooth tends to present certain challenges when it comes to proper oral hygiene.
Impacted Tooth Complications
Impacted teeth are typically quite difficult to clean, and as such tend to make surrounding periodontal tissues extremely vulnerable to gum anomalies, among the most common of which include gingivitis. The particular type of gingivitis brought about by a partially erupted tooth is technically referred to as pericoronitis.
In particular instances where a partially erupted wisdom tooth develops on the upper jaw before the third molar on lower , the upper tooth typically tends to bite down on the lower set of molars. This is what most commonly causes irritation and a number of gum infections, which include pericoronitis.
The best course of action to take at the very onset of developing either an impacted third molar is to immediately consult with your local dentist.
Pericoronitis Treatment
In most cases of pericoronitis, your dentist will, before anything else, methodically flush out any remaining food debris from around the site of the impacted tooth. For a more comprehensive diagnosis, your dentist will take an x-ray to conclusively assess whether or not the tooth has any chances of properly erupting through the gums.
If necessary, meaning if the tooth is likely to remain impacted, your dentist might require you to undergo a surgical removal of your third molar. Generally, having an impacted wisdom tooth removed best increases your chances of protecting your oral health against gingivitis and other unwanted dental anomalies.
Dentist In Bondi
With a local community presence of over 30 years, Bondi Dental remains committed to providing the local Bondi community and its surrounding regions with the very best dental solutions that modern dentistry has to offer.
Experience this commitment to oral health. Claim your FREE dental consultation by calling your local Dentist In Bondi at (02) 9365 7187. Or simply, by booking an appointment online.
Call your Bondi dentist on (02) 9365 7187 or book your appointment online.
Visit us at 134 Curlewis St in Bondi Beach.