Oral Health Tips: Keep Your Teeth Healthy this Holiday Season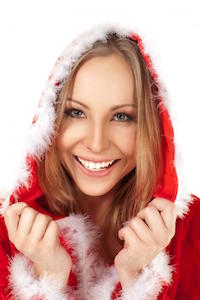 December is the most special month of the year. It's the best time to eat with your friends and family and feast on sumptuous meals that are just too hard to resist, and that often includes sugary treats and other foods that are high in calories.
Despite being surrounded with guilty pleasure foods as well as staying up late to make the most of the holidays, it is also important to not forget about your wellbeing especially your oral health.
It's nice to end the year toothache-free, so we have listed some useful oral health tips, which can help you keep your teeth and gums in great condition throughout holidays.
Oral health Tips for Merrier and Healthier Holidays
Eat sweets with your meal. Some people, especially kids, save the last bite for sweet foods such as candies, cookies and other type of sugar-loaded treats. Feasting on sweet foods during your mealtime will do less harm to your precious teeth compared to when you eat them as a separate snack.
Drink a lot of water throughout the day. Water is the best guilt-free quencher and it washes way the sugary and starchy residue from the foods you eat that might remain on teeth.
Include dairy items on the table such as milk and cheese. These types of foods act as buffers to acids that damage tooth enamel. Dairy products are rich in calcium, which is known to promote healthy teeth and gums.
Get enough rest during holidays. Christmas is a very festive and busy season, but you shouldn't forget to get plenty of rest. Have at least 7 to 8 hours of sleep to improve and rejuvenate your overall health, including your dental health, for the next day.
Aside from dairy foods, incorporate apples, celery and carrots among the foods you prepare or eat. They are not only healthy and delicious, they also help clean your teeth and keep your gums in the pink.
Foods to Limit during the Holidays for Your Dental Health
If you have dental work beware of these foods:
Candy canes
Peanut brittle
Caramels
Pecan pie
Nuts
And other types of hard and sticky candies.
When it comes to drinks, reduce your consumption of these favourites:
Holiday drinks such as cider and hot chocolate
Red and white wine as they cause tooth discolouration and create holes in teeth
These foods are also included in the list:
Popcorn
Fruitcake
Gingerbread
Peppermint bark
Visit Bondi Dental for Your End-of-the Year Dental Cleaning and Check-up
Soon we will welcome another year. Before 2015 ends, get the best protection for your oral health with the help of your trusted Bondi dentist at Bondi Dental. Visiting us before celebrating the holiday season will help ensure that you and your family can enjoy the holidays without experiencing pain in your mouth or any sort of dental emergency. From the entire team of Bondi Dental, we wish you all the best this holiday season!
We are conveniently located in the Eastern Suburbs – Bondi Beach, Bondi in Sydney, offering high quality dental services to the local Bondi community its surrounding areas. Bondi Dental provides free parking facilities at rear of building.
Contact us today to claim your FREE Dental Consultation on a dental check-up, smile makeover, and dental implants. Bulk Bill Child Benefit Schedule Up to $1,000. Call on (02) 9365 7187 or simply book your appointment online. Bondi Dental's group of professionals has combined experiences of over 60 years in all aspects of dentistry.
Call your Bondi dentist on (02) 9365 7187 or book your appointment online.
Visit us at 134 Curlewis St in Bondi Beach.