Oral Cancer Screening: Early Detection Starts Here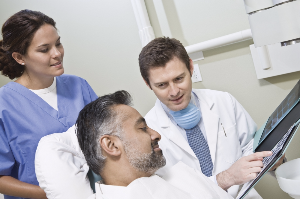 During your routine check-up, it's expected that your dentist will check for cavities and signs of gum disease. However, you may not be aware of the examination your dentist performs during appointments that can actually save you and your overall oral wellbeing.
Aside from looking inside your mouth to check the condition of your teeth and gums, your dentist is also checking for signs of oral cancer.
The Goal of Oral Cancer Screening
Oral cancer screening detects mouth cancer or the precancerous lesions that could result in mouth cancer earlier, giving you a better chance for a cure. In some cases, your dentist may use additional tests to help in recognising areas of abnormal cells inside your mouth.
Detecting the cancer early may increase your chance of surviving the disease by up to 90%. That is why dental experts are on guard about screening patients during check-ups. Your dentist knows the structure of your mouth and examines you every six months; thus, they are in an ideal position to spot this disease early enough that it can be alleviated and treated.
Your First Step Towards Oral Cancer Prevention
To prevent oral cancer or catch early signs of the disease:
Visit your dentist regularly for dental check-ups and exams. Ask about oral cancer screenings.
Quit smoking and using tobacco products. Your dentist may suggest tools to help you stop.
Reduce your alcohol consumption.
Avoid too much sun exposure and use U/V protective lip balms
Eat more fruits and leafy vegetables
Do a self-examination every month and tell your dentist about any changes in your mouth.
If your dentist finds any indications of oral cancer or precancerous lesions, they will recommend a follow-up visit or a biopsy procedure. A follow-up visit is required to determine whether the abnormal area still exists or has developed and changed over the course of time. Your dentist may perform the biopsy or refer you to a doctor specialising in oral cancer diagnosis and treatment.
Comprehensive Examination and Oral Cancer Screening in Bondi
Start your prevention against oral cancer with us, here at Bondi Dental. Our dental team encourages you to join our Active Maintenance Dental Program, which includes six-month check-ups, examinations including scale and clean. Through examining your current oral health condition and monitoring the health of your teeth and gums, we can help reduce your risk of oral cancer and monitor the health of your teeth and gums. For more information about oral cancer screening, call or visit our experts today.
Contact us today to claim your FREE Dental Consultation on a dental checkup, smile makeover, and dental implants.
Call your Bondi dentist on (02) 9365 7187 or book your appointment online.
Visit us at 134 Curlewis St in Bondi Beach.