Medical Conditions that Affect your Mouth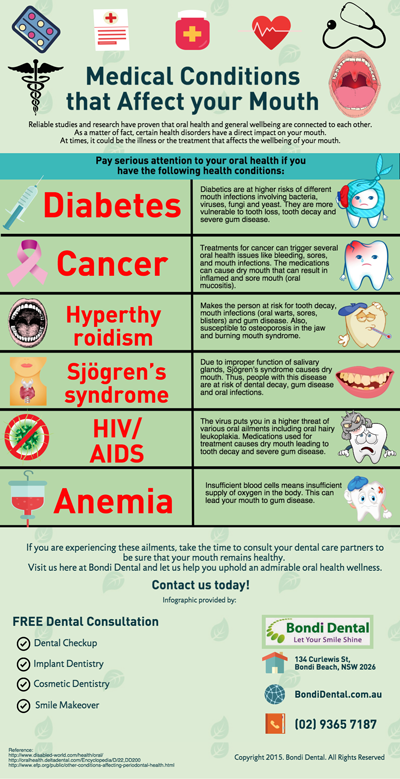 There are many health conditions that affect the health of your mouth, particularly the teeth and gums. Sometimes, the first indication of a disease can show up in your mouth. In other situation, infections in your mouth can cause complications in some areas of your body. Also, the impact of the illness itself intensifies your chances of getting gum disease or tooth problems.
When attending your dental checkup, you will nee to tell your dentist about any medical conditions or recent operations including the medications you are taking that may affect your dental treatment. You will also need to see your dental team more often for cleanings and examinations. It is also important to disclose to your dentist regarding any indications of oral health issues you have.
To know more about medical conditions that can affect your overall oral health, consult your trusted dentist in Bondi here at Bondi Dental. We carry out remarkable and thorough dental examinations to detect any problems with your mouth, teeth and gums. With the help of our comprehensive and quality dental procedures, you and the rest of our skilled dental team can keep your mouth clean and healthy.
Contact us today to claim your FREE Dental Consultation on dental checkup, smile make-over, and dental implants.
Call your Bondi dentist on (02) 9365 7187 or book your appointment online.
Visit us at 134 Curlewis St in Bondi Beach.