Discover top 10 mouth problems and their best solutions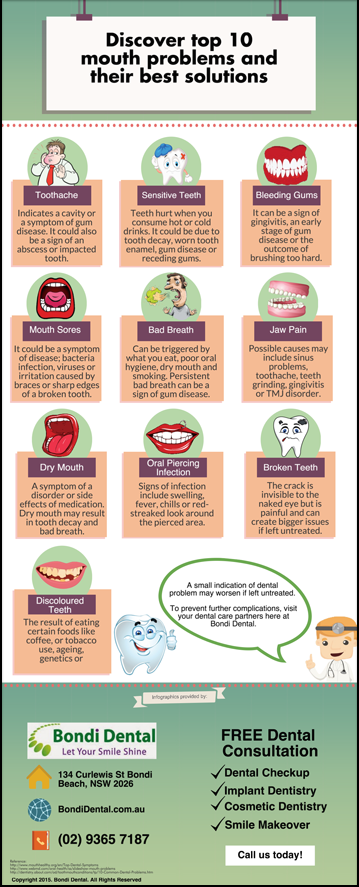 One of the main reasons why you are more likely to experience a dental problem is due to your poor oral hygiene.Through brushing and flossing teeth, you can remove food debris that may stick between teeth. Simply ignoring these particles may create bigger issues in the future if not paid with appropriate attention.
These mouth problems can be easily prevented if you engage yourself in a healthy lifestyle, do an impeccable oral hygiene and attend to your regular dental checkups. It is always best to be mindful of your oral health status because the health of your mouth may also affect the health of your whole body, as oral and general health go hand in hand.
Be well informed on how you can prevent various mouth problems with the help of your trusted Bondi dentist. Here at Bondi Dental, we can teach you the effective ways of improving your mouth care routine so you can experience an admirable oral health. Through our wide-ranging oral care treatments, you can be sure that your oral health is in good hands.
Contact us today to claim your FREE Dental Consultation on dental checkup, smile make-over, and dental implants.
Call your Bondi dentist on (02) 9365 7187 or book your appointment online.
Visit us at 134 Curlewis St in Bondi Beach.