6 Ways Unhealthy Teeth Can Affect Your Health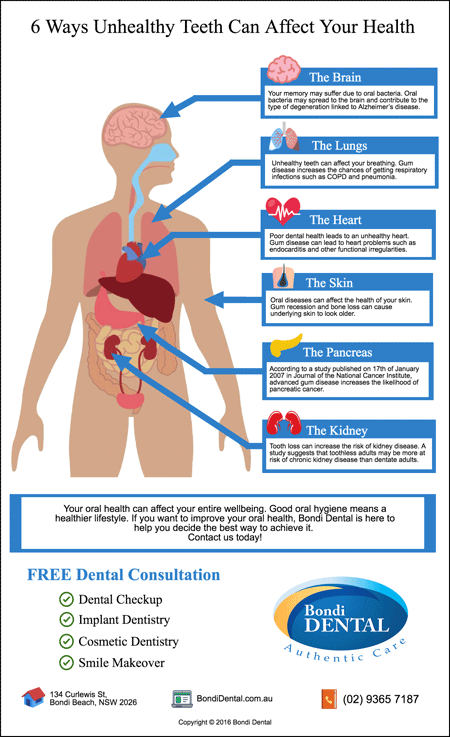 Why is it very important to maintain healthy teeth and gums and commit to your daily oral hygiene? It's because there is a significant link between your mouth and your body, and this is supported by various studies. What happens inside your mouth will have an effect on your overall health.
Poor oral hygiene can lead to a build-up of harm dental plaque, which can eventually result in tooth decay and gum disease. Unhealthy teeth can cause various health issues such as:
Increased risk of respiratory infections like COPD (chronic obstructive pulmonary) and pneumonia
Contribute to the type of degeneration associated with Alzheimer's disease
Increased risk of chronic kidney diseases among toothless adults
Heart problems (such as endocarditis and other functional irregularities)
Increased likelihood of pancreatic cancer due to advanced gum disease
Unhealthy skin and older appearance caused by gum recession and bone loss
If you start establishing good dental hygiene habits today, you can prevent all these health problems later in the future. Encourage yourself, your children and your family to visit your dental team regularly and practice good dental care always. Doing so will not only protect your teeth and your smile. It can even save your life!
Claim your FREE Dental Consultation for a dental check-up, smile makeover, and dental implants. Bulk Bill Child Benefit Schedule Up to $1,000.
Bondi Dental consists of a group of professionals who have combined experience of over 60 years in all aspects of dentistry.
Call your Bondi dentist on (02) 9365 7187 or book your appointment online.
Visit us at 134 Curlewis St in Bondi Beach.