Why a Visit to Bondi Dental Brings Smiles!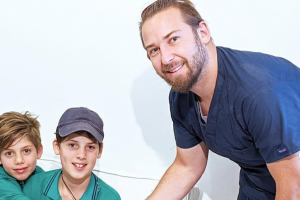 At Bondi Dental, we do things differently – the focus of our care is directly on you! When you visit us, you enter into a partnership with all of us: dentists, hygienists, and every member of our team.
We see our role as to provide you with the information you need to help you understand your oral health, understand the options for treatment that can help you reach your goals, and provide you with guidance and support during your decision-making.
And when you visit our dental office, we have already done everything we can to make your visit pleasant, we continue to do so as we greet, seat, and treat you, and we also extend our great service after you leave our offices, with your smile bright and shiny!
Let's take a look at what you can expect when you visit Bondi Dental!
Before you get to our offices
When you call us, our friendly front desk will get your particulars and set up an appointment for you.
And don't worry about reaching us, not only is Bondi Dental just off of Campbell Parade, but it is also convenient for patients who take public transportation.
And if you're driving, you'll appreciate that we offer free parking behind our offices.
You won't be in a hurry, either, as we are open from 8 AM to 8 PM, seven days a week!
When you enter our offices
The first thing you will notice is our clean and comfortable furnishings.
Our dental centre has been around for over 30 years and had been recently renovated with modern décor, pleasant colour schemes, fresh flowers, piped music to provide patients with a comfortable and relaxing atmosphere.
Next, you'll likely notice our friendly atmosphere. When you check-in for your appointment, you will be given any necessary instructions or paperwork by our friendly staff.
Then, in minutes, you'll be whisked into our state-of-the-art dental facilities for your check-up, cleaning, or treatment.
Consultation
It is a fundamental principle at Bondi Dental that we do nothing before we have fully consulted with you and your completely understand the treatments and outcomes that we are giving you.
This is true of our preventive, restorative, and cosmetic dentistry. Your needs are the priority at Bondi Dental.
Treatment
Treatment varies according to your particular case, but most likely, you will be seeing a combination of our highly trained dentists and our equally well-trained hygienists.
Dr Haddon Suttner is the owner and principal dentist here at Bondi Dental and makes it a personal mission to ensure that all staff, from the front desk, to the X-ray machine, and in the chair, are friendly and skilled.
Our other dentists are equally skilled and experienced, and our support staff is second to none.
Our Full Range of Services
Bondi Dental has over 30 years of experience, and we offer a complete range of treatments.
General/Preventive Dentistry
We offer it all, from simple check-ups to tooth removal:
Cosmetic Dentistry
Bondi Dental can also help you achieve a stunning smile that you never thought was possible:
Restoration Dentistry
We can also help you restore your teeth to their original, healthy state:
Emergencies
We offer emergency dental services after hours, on weekends (Saturdays and Sundays), and on Public Holidays.
If something unexpected happens to harm your dental health, just give us a call at (02) 9365 7187 to set an appointment.
Here are a few emergencies we can help with:
Aftercare
Our top-notch dental treatment is the most important thing we do, but we also do a lot of other things.
If you are confused about billing or payment, our friendly staff can help you navigate the process.
We offer zipMoney Mediplan for interest-free payments of the dental treatments you need.
If you have children, we can help you with the Child Dental Benefits Schedule. We will also help you set up your next appointment, scheduling it at a time that is convenient for you.
The Bondi Dental Advantage
Bondi Dental's convenient location is in the Eastern Suburbs – Bondi Beach, Bondi in Sydney. Our skilled dental professionals have over 60 years of experience in all fields of dentistry.
We provide high quality dental preventative, restorative, and cosmetic services for all patients in the region.
Bondi Dental has free parking behind our building and offers a FREE Dental Consultation including a complete dental check-up.
We are open seven days a week 8 am – 8 pm!
FREE Consultation:
Call your Bondi dentist on (02) 9365 7187 or book your appointment online. Visit us at 134 Curlewis St in Bondi Beach.