Oral Surgery And Choosing The Right Oral Surgeon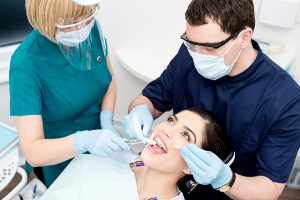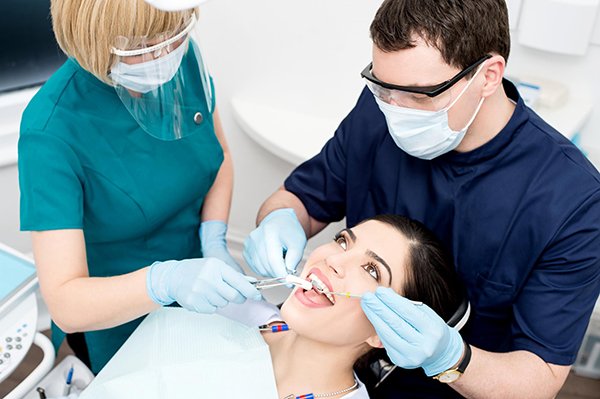 Many people confuse oral surgeons with dentists. Though both of these professionals work on the human mouth to increase oral health and alleviate discomfort, each has particular responsibilities, knowledge, skills, and patients.
Dentists
Dentists are oral health primary care providers. Like a family doctor, who can diagnose and treat general health problems, dentists diagnose and treat oral health issues.
Dentists help their patients enjoy optimal oral health and achieve stunning smiles. They provide checkups, dental exams, diagnostic exams, x-rays, cleanings, fillings, root canals, gum care, veneers, crowns, teeth whitening, and other general preventative maintenance.
Oral Surgeons
Oral surgeons, sometimes called maxillofacial surgeons, are dentists who have undergone specialized training to learn how to treat particularly complex dental challenges. The surgical procedures they perform correct facial and jaw damage due to congenital defects, trauma, and disease. Oral surgeons are also qualified to place dental implants, extract teeth, and treat a range of chronic conditions such as neck/head cancer, and some temporomandibular joint disorders (TMJ).
Oral surgeons complete dental school and also an extra four years of training.
As you can probably tell, oral surgeons perform complicated and important procedures, which is why it is so important to pick the proper oral surgeon. In order to choose the proper oral surgeon, you need to know exactly what they do, and what you should ask them in order to choose the proper one. Bondi Dental is here to help you with that!
What Do Oral Surgeons Do?
Removing diseased and impacted teeth and administering anesthesia. An oral surgeon can remove impacted and damaged teeth and provide in-office anesthesia services, including intravenous (IV) sedation and general anesthesia.
Placing dental implants. In collaboration with a cosmetic or restorative dentist who designs your new smile or restorations, your oral surgeon can help with the planning and subsequent placement of your tooth implants. Oral surgeons can also reconstruct bone in areas requiring it for implant placement.
Treating facial trauma. Oral surgeons can repair minor-to-complex facial skin lacerations, set fractured jaw and facial bones, reconnect severed nerves and treat other facial injuries involving the oral tissues, jaws, cheek and nasal bones, eye sockets, and the forehead.
Evaluating pathologic conditions. Oral surgeons treat patients with benign cysts and tumors of the mouth and face, as well as people with malignant cancers and infections.
Alleviating facial pain. An oral surgeon can diagnose and treat facial pain disorders, including those caused by temporomandibular joint (TMJ) problems.
Performing reconstructive and cosmetic surgery. Oral surgeons can correct jaw, facial bone and facial soft tissue problems that result from trauma or the removal of cysts and tumors.
Performing corrective jaw surgery. Oral surgeons correct minor and major skeletal and dental jaw irregularities to improve chewing, speaking and breathing.
Choosing an Oral Surgeon
When selecting an oral surgeon, key questions to consider include:
How long has the oral surgeon been practicing? Ideally you should choose an oral surgeon who has built a successful practice through years of experience.
What is the oral surgeon's training and clinical experience in performing the specific procedure(s) you require? Ask about experience, knowledge and background with your specific problem.
What professional organizations the oral surgeon belongs to? Have they received any credentials or awards from these groups?
What ongoing education has the oral surgeon taken? How recently have they been completed?
What is the oral surgeon's diagnosis and proposed treatment plan? Be sure to ask about all the options to treat or correct your condition, as well as the pros and cons of each. Make sure that all aspects are thoroughly explained to you.
What are the estimated costs of the proposed treatment options? In cases where dental insurance does not cover treatment costs, does the oral surgeon offer third party and/or in-house financing?
You also need to determine whether these dental/medical professionals – as well as the hospital and/or other surgical center where they and/or your oral surgeon may practice – accept your insurance, and whether the specific treatments/procedures they will perform are covered under your insurance plan.
If laboratory-fabricated restorations are involved, is the laboratory technician certified or accredited? How long has your oral surgeon worked with this laboratory/technician? Is your oral surgeon satisfied with the quality of the laboratory and/or technician?
Emergencies are unlikely, but do find out what provisions the practice offers. What type of emergency care does the oral surgeon offer? For instance, can the oral surgeon be reached and readily available after office hours, on weekends and holidays?
The Bondi Dental Advantage
Bondi Dental is located in the Sydney area, at Bondi Beach. We offer high quality dental preventative, restorative, and cosmetic services for all patients, including children. Bondi Dental offers free parking at the rear of the building and FREE Dental Consultation including a complete dental check-up.
For your oral health needs, Bondi Dental is your trusted local dentists in Bondi Beach with the right oral surgeon for you.
Our Promotions
Interest free payments with zipMoney Mediplan
zipMoney allows you to spread the cost of your treatment with flexible interest free payments on your own terms.
We are open 7 days a week 8am – 8pm!
Call your Bondi dentist on (02) 9365 7187 or visit us at 134 Curlewis St in Bondi Beach.