Laser Periodontal Therapy For Gum Disease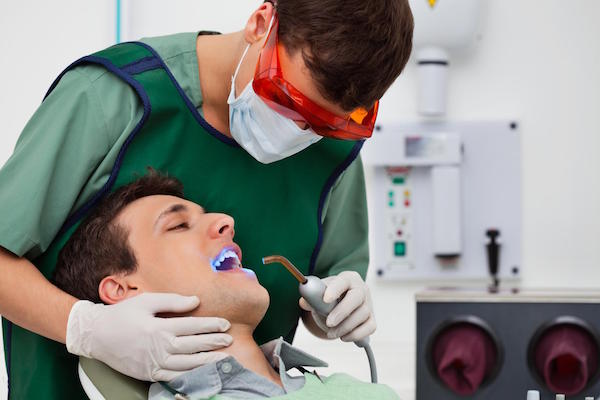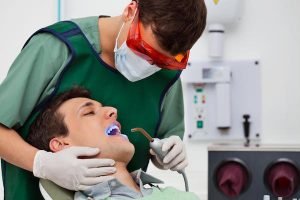 When we think of lasers we may think of laser pointers, space battles, or powerful cutting tools.
What we may not think about is oral care. But lasers have become a powerful new tool in dentistry, effective in treating gum disease.
Although laser periodontal therapy is still a relatively new technology, it shows promising results for eligible patients.
This is why Bondi Dental is happy to introduce you to our newest technology! Laser Dentistry is the latest weapon in our arsenal of dental services. Lasers allow your dentist at Bondi Dental to accurately perform a wide range of soft tissue procedures for cosmetic or restorative treatments.
Using advanced laser therapy, your Bondi Dental dentist can build healthier, beautiful smiles in a less invasive way.
What is Laser Periodontal Therapy?
In periodontal laser therapy, your Bondi Dental dentist uses a dental laser to access and eliminate inflamed gum tissue from around the root of the tooth. When the infected tissue is gone and the root is exposed, the root scaling begins.
This means scraping off calculus and plaque built up below the gumline and surrounding the root. Then, we smooth the surface of root to eliminate rough spots that might attract bacteria and cause future infections. The area between the gum and the root can then regenerate and reattach during the healing process.
Dental Procedures That Use Laser Therapy
Dental lasers can be used for the following procedures:
Soft tissue procedures
Frenectomy
Gingival troughing for crown impressions
Gingivectomy and gingivoplasty
Incision and drainage of abscess
Fibroma
Herpetic Lesion
Treatment for canker sores
Implant recovery
Periodontal Procedures
Sulcular debridement
Laser bacterial reduction
Laser degranulation
Removal of highly inflamed edematous tissue
Laser Therapy For Periodontal Disease
Historically, periodontal disease has been treated with a scale and root plane (SRP).
This is a non-surgical technique that cleans the surfaces of the teeth and roots that may be exposed due to gum recession. SRP removes tartar, plaque and bacteria from the gum surrounding the root, and promotes healthy regeneration of gum tissue.
In another approach, gum flap surgery may be performed, in which the gum tissue is incised and pulled back to allow deep cleaning of the roots beneath. The gum tissue is then sutured back into position for healing.
Periodontal Laser Therapy replaces these approaches, and with several advantages. At Bondi Dental, we use laser therapy with patients who suffer from moderate to advanced periodontal disease. The laser can precisely remove infected and inflamed gum tissue without damaging healthy tissue.
In addition, the treatment allows the dentist to reduce the depth of gum pockets that often become inflamed as the disease advances. This method of laser dentistry promotes faster reattachment of soft tissue to your teeth while the gums heal.
Advantages of Laser Therapy
No slicing of gum tissue with a scalpel and no need for stitches means an easy recovery with little bleeding.
Preserves gum tissue instead of cutting it away.
Less pain, reducing the need for anaesthesia during procedures.
Reduced risk of post-operative infection.
Minimal to no bleeding during the soft tissue procedure.
Ideal for anxious patients because it doesn't involve cutting or suturing.
Promotes faster healing and recovery.
Both sides of the jaw can be treated during the same visit: This is because there's no need for injections.
Bacteria reduction: The laser kills bacteria on contact reducing the chances of infection.
Reduction of tooth sensitivity: The laser gum treatment does not cut the gums, so there are no open areas on the gums, such as occur with traditional gum surgery.
Safe for everyone:  Laser treatment is ideal for healthy people, as well as those suffering from diabetes, hemophilia, HIV, or medicated patients.
Post-therapy care
Sticking to a good oral hygiene program after periodontal therapy is a key part of avoiding a recurrence of the inflammation. So brush and floss regularly, and follow any recommendations your Bondi Dental dentist gives you.
Laser Therapy At Bondi Dental
Bondi Dental keeps abreast of the latest technology, techniques, and innovations in dentistry. We constantly search for dental solutions that improve the quality of your life. We want you and your family to live a healthy and pain-free life! Investing in modern dental solutions helps us to offer you the finest in dental and health care. Our dental professionals have undergone specialised training to provide safe and effective outcomes.
Learn how laser therapy can help improve your dental health!
The Bondi Dental Advantage
Bondi Dental is conveniently located in the Eastern Suburbs – Bondi Beach, Bondi in Sydney. Our extremely skilled dental professionals have more than 60 years of combined experiences in all fields of dentistry.
We provide high quality dental preventative, restorative, and cosmetic services for all patients in the region. Bondi Dental has free parking behind our building and offers a FREE Dental Consultation including a complete dental check-up.
We are open 7 days a week 8am – 8pm!
Call your Bondi dentist on (02) 9365 7187 or visit us at 134 Curlewis St in Bondi Beach.