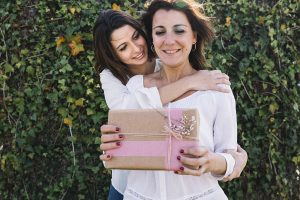 This Mother's day, forget the spa treatments, wine, flowers, and gag cards.
Why don't you surprise your Mom with something she's not expecting? The gift of dental health!
At Bondi Dental, we know dentistry is probably not at the top of your list for gift ideas, but if you think about it makes a lot of sense.
After all, what could be more valuable than strong, healthy teeth and a brilliant smile that lasts a lifetime?
Giving someone one of the gifts we suggest here will show you are caring, thoughtful, and even practical.
Let's take a look at three great gift options.
#1 The gift of a youthful appearance!
Think of facial injections as something like tooth whitening, veneers, or white tooth fillings.
Just as these treatments upgrade unattractive teeth, facial injections can smooth and brighten the look of your face.
At Bondi Dental, we offer Anti-Wrinkle Injections and Fillers.
Anti-Wrinkle Injections. This is perfect for Moms who want to reduce the appearance of facial lines without the hassle and danger of surgery. The procedure is safe, effective, and quick.
Dermal Fillers. Fillers also work on unwanted lines on Mom's face, offering a more natural appearance than plastic surgery or facelifts.
Dermal fillers can significantly reduce medium to deep wrinkles, can shape face, neck and hand contours, and can create fuller, more attractive lips.
#2 Make Mom smile with Whiter, Brighter teeth
As we age our teeth darken and can stain and sometimes even stain. If this has happened to your Mom's teeth, consider giving her a tooth-whitening package for Mother's Day. At Bondi Dental, we offer two treatments.
LED (In-chair) Teeth Whitening takes place in our clinic using a LED lamp light. Whitening takes 1-2 hours depending on the colour of Mom's teeth and how much 'whiteness' is desired.
This is the most effective and fastest method of teeth whitening. Gum protection and gel are used to guard against sensitivity during and after the procedure.
Professional Home Whitening Kits are easy and economical. We take impressions of your Mom's teeth, making a mould that is used to make custom-fitted trays.
These trays are used to hold the tooth bleaching gel against teeth but away from tissues. Results appear in one to two weeks, and your Mom is in charge of the degree of "whiteness" that she desires.
This is an excellent treatment for the Mom who wants to get brighter teeth at her own pace and in the convenience of her own home.
Results are spectacular!
Teeth Whitening at Bondi Dental
#3 Emergency Dental Kit
This is the perfect gift for a Mom who travels, enjoys the outdoor, or spends a lot of time around children (who are very prone to accidents of all kinds).
You can buy a kit ready-made, or create your own. A good emergency dental kit should contain:
Toothpaste in a sealed container or plastic bag.
Toothbrushes.
Floss and mouthwash. Your Mom should floss twice a day and use mouthwash as directed.
Bondi Dental's phone number: Have our phone number readily accessible for unexpected situations.
Alcohol wipes: Use to clean and disinfect the area
Dental mirror: Use to view inside of the mouth
Latex gloves: Wear to use with someone other than yourself (use vinyl gloves if allergic to latex)
Temporary dental filling material: Used to temporarily fill a tooth if a filling is lost
Mom-specific items: If Mom, or friends or family, have specific dental needs for dentures, bridges, etc., these should be included as well.
And there's our list! There's still time left to get a present for Mom and give the gift that keeps on giving – the gift of dental caring!
#4 Give the "right" chocolate
If you're going to give candy to your Mom, be sure to give her candy that is as oral-health safe as possible. One excellent option here is dark chocolate.
The cocoa bean holds healthy elements of chocolate. Cocoa beans contain polyphenols, tannins, and flavonoids.
Polyphenols hobble the effects of bacteria by preventing infections, working to neutralise microorganisms that cause bad breath, and battling tooth decay.
Flavonoids work to slow tooth decay, among other things. Tannins give dark chocolate it's slight bitter tang and create the dark colour of the candy.
Tannins also help prevent cavities – they inhibit bacteria from sticking on teeth.
So, if you opt for candy, make it a selection of dark chocolates!
The Bondi Dental Advantage
Bondi Dental is conveniently located in Bondi Beach, in Sydney. Our exceptionally trained and skilled dental professionals have over 60 years of combined experience across all dental fields.
We provide high quality dental preventative, restorative, and cosmetic services for all patients.
Bondi Dental offers free parking behind our building as well as a FREE Dental Consultation including a complete dental check-up.
We are open seven days a week 8am – 8pm!
FREE Cosmetic Consultation
Call your Bondi dentist on (02) 9365 7187 or visit us at 134 Curlewis St. in Bondi Beach.